Princeton 2018 Student Sharing
Princeton Summer Undergraduate Research Program 2018: Student Sharing
CHEN Ruihong Ricky (BEng in Mechanical Engineering)
Princeton Supervisor: Prof. Michael MUELLER
Department: Mechanical and Aerospace Engineering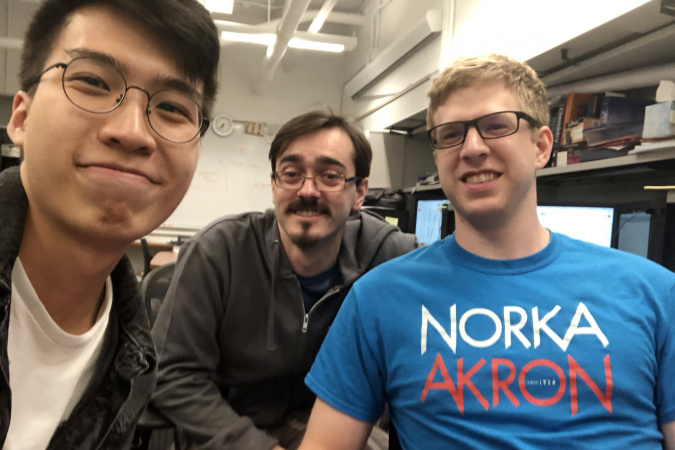 Overall Experience
My summer at Princeton has been an utterly wonderful experience in terms of both learning experience and social exposure. The supervisor as well as the PhD seniors at the lab were super helpful and friendly, which made the seemingly convoluted topic turn out to be somehow interesting and comprehensible. Additionally, people there are rather talkative and tend to engage in conversations, which also helped me get to know more about what PhD students' lives are like at Princeton and have more insights about graduate schools in the United States.
Keller Center, which organizes the REACH program, the one that I participated in, helps arrange weekend trips, free lunches and talks to get us exposed to more authentic American culture with a mixture of everything but also with some certain characteristics. These activities really guide us through some cultural shocks and provided us with precious opportunities to make more connections with talents from all over the world since there are plenty of summer programs gathering outstanding students worldwide.
General Information
Keller Center is very efficient regarding the visa application, and they issued the required document pretty early. The only concern would be to start the application as soon as possible to reserve extra time in case the application gets checked, which would normally take longer than you can imagine.
All the information about the way of getting room keys and orientation activities will be sent out via email before arrival. The accommodation is usually undergraduate halls at Princeton, most of which are not equipped with air-conditioners since the buildings are too old for the installation. Some days the temperature could be unbearable but most of the time it turns out to be fine for the weather there is better than here in Hong Kong during summer. Keller Center said they would try to get furnished halls next year so it might get much more pleasant.
Working in the lab is a whole new experience where I get to see the pace of academic research and the process of trial-and-error. My summer project is to run low-dimensional simulations of the new burner, which is a topic I have never touched before. The PhD students helped get me through my nervousness and patiently explained all the new concepts to me, which I could not appreciate enough. Moreover, every time I ran into some bugs or problems that I failed to resolve, they tried their best to find a solution though most of the time we finally had to turn to Michael, the supervisor.
There are numerous social gatherings for graduate students, such as cookie time, donuts sharing, tea talks and barbecues (Yes all of them are food-related). I was invited to most of them and all of them were great experiences thanks to the nice vibes that they were giving. Also, Fourth of July, the Independence Day, happened to be Wednesday and we got a day off. Almost everyone was celebrating, and I went to one of the barbecues, where there were lots of food, drinks, fairy sticks and fireworks. It was truly loads of fun.
CHEN Yau-Pun Stephen (BSc in Computer Science)
Princeton Supervisor: Prof. Nick FEAMSTER 
Department: Computer Science
My summer at Princeton was absolutely amazing. I worked in the Center of Information Technology and Policy under the supervision of Professor Nick Feamster. I was given the chance to also work with Professor Samory Kpotufe and Doctor Huang. My host, Austin helped me a lot and made me feel included in the community.
My work was on IoT device classification based on network traffic data. I was challenged to figure out the experiment network setup based on very limited information. Apart from swimming in past literature on IoT and security, I had to figure out how to do feature engineering, visualize data, and build a working rule-based classifier. In the meantime, I was able to apply several advanced techniques, such as kernel methods and word embedding, that I learnt in class.
The location of Princeton is optimal. It is in the middle of the straight line between New York and Philadelphia. During the program, I got to travel to New York, Philadelphia and even fly to San Francisco as Princeton is only one hour away from the Newark International Airport. Transportation was convenient as people can take the "Dinky", a two-car cable cart, from campus to Princeton Junction which is a stop of both Amtrak and New Jersey Transit.
The campus of Princeton University is stunning, with a decent balance of antique and modern buildings. The arts departments are generally in older buildings constructed by red bricks and marbles. On the other hand, the engineering departments and especially the Woodrow Wilson School of Public Policy are in novel architectures. We lived in one of the oldest hall, Patton Hall of almost one hundred years of history. The hall is next to the heart of the campus - Frist Campus Center where canteen and convenient shop are and three minutes away from the Dylon Gym which is free for all students.
JING Ying Enrique (BEng in Electronic Engineering)
Princeton Supervisor: Prof. Margaret MARTONOSI 
Department: Computer Science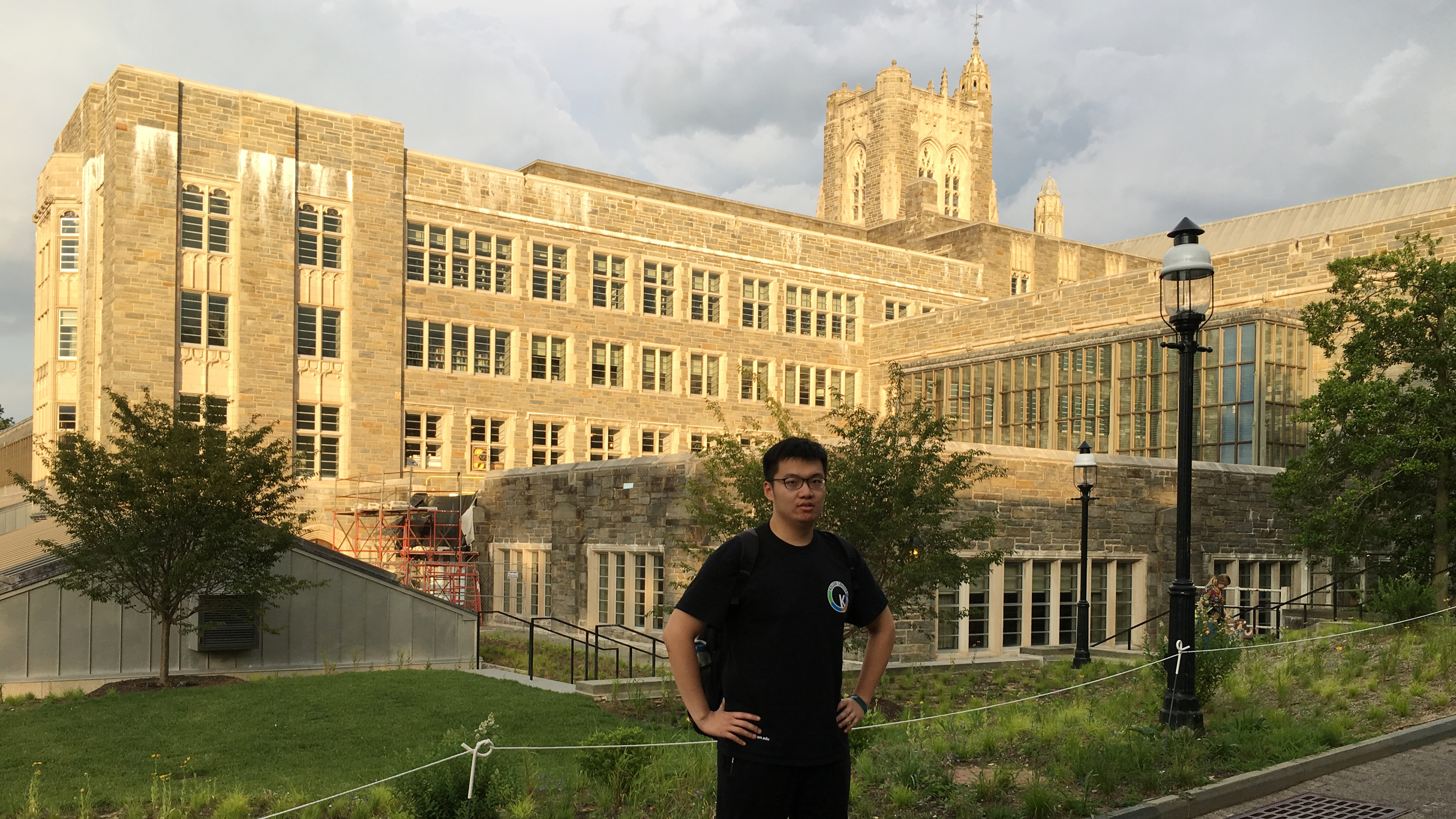 During the flight from Beijing to Newark, I was watching the famous movie The Beautiful Mind. Almost 20 years have passed, but the scenarios in the movie remain almost the same at Princeton. My time there was amazing.
I was working with Professor Margaret Martonosi and Mr. Yatin Manerkar on the concurrency system in the Internet of Things. I always enjoyed the time we did research together. Professor Martonosi is one of the best professors that I have ever met. For every question I asked, she would reply and explain in detail. Even for daily-life problems, she would patiently help me to get out of the difficulties. Yatin has been inspiring me all the time. When I got some strange results and turned to him for help, he would encourage me to raise up my personal ideas and then share his opinions. We collaborated and worked on the project together. Throughout the program period, we had a group meeting and an individual meeting every week. In the group meetings, we would share our ideas on every topic presented. In the individual meetings, Professor Martonosi, Mr. Manerkar and I would brainstorm and come up with new ideas on our project. The two meetings always inspired me to think harder and deeper. I have never gone through this kind of research experience before.
Apart from the research experience, the REACH program also enriched my personal life. This is a wonderful opportunity to make friends with foreign peers. Besides the five students from HKUST, the REACH program also has five graduate students from Germany. We would share our research experience, exchange the rational culture and learn each other's language. We studied together, had meals together, and enjoyed ourselves together. Our office is also multi-cultural. I had seniors from America, India, South Korea, Canada, Taiwan, and Nigeria. In our spare time, we would share our culture and the history of our countries. Meanwhile, as an undergraduate student, I would ask them for suggestions for my graduate study. They would evaluate their personal experiences with me, encourage me to stick to my interests, and advise me to figure out where my passion is. I also made lots of friends from Peking University and Tsinghua University. We discussed our university lives and found out our common hobbies.
I would say Princeton is one of the best places for researchers in the world. First, the professors and seniors there were always friendly. They were willing to share their knowledge and experience to help the junior students like me. Next, the people there were warm-hearted. Strangers greeted each other with sunny smiles, friends helped others whenever they were needed. The environment was comfortable for researchers like me. The lawns and squirrels there gave me the sense of nature, while the architecture represented the history of the university. When I was anxious, the circumstance there could always calm me down.
To sum up, the eight-week life at Princeton was invaluable. My professor inspired me with knowledge, my seniors stimulated my interest, and my friends encouraged me to embrace a new life. The research experience taught me what engineering is. The daily experiences demonstrated how life in the US would be like. This could be the most fruitful summer I ever had.
LI Bo Daniel (BSc in Computer Science)
Princeton Supervisor: Prof. Claire GMACHL 
Department: Electrical Engineering / MIRTHE
In this summer, I was very glad to attend the Princeton Summer Undergraduate Research Exchange Program. The program is also called REACH program, held by School of Engineering of Hong Kong University of Science and Technology, and Keller Centre of Princeton University. I worked with Professor Claire Gmachl. My topic is Mid-infrared, Robust Retro-reflecting Tape for Airborne Atmospheric Sensing. It is a device placed on the wings of the airplane and used to detect and study the amount and components of trace gases. This project requires the knowledge of material science and physics. However, most of them are new things and very challenging for me. I was struggling a little bit and nervous at the beginning, but Professor Claire was so nice and offered me lots of help and advice. She came to the lab every afternoon, answered my problems and gave me some guidance.
More than the knowledge of technical details, I also learned how to start doing research in an unfamiliar field. The most important thing is to be patient. It is very common that lots of terms are obscure and academic papers are hard to understand. Patience is the key factor to figure out the meaning of each basic term step by step and find the final feasible solution. The second thing is communication. Sometimes a brief talk with others can save a lot of time. Because the project was big, I divided my job with others and talked about some details. Explaining my work and letting others know what I want and what my problem is, are important parts of the communication. The third thing is corporation. It is hard to learn all the things by my own, so sharing with others what each person has learnt is also a good way to make a start and improve the efficiency.
In addition to the daily research, I also participated in some other activities. The Keller Centre would organise a Tea & Talk every two weeks. There is a different topic about American culture every time. Most of our international students had not come to America before, so it was a good opportunity to let us get used to the life here. Besides, all research students can join in the activities held by the REU department. REU is short for Research Experience for Undergraduate. Every Wednesday, REU will hold a seminar. Some famous professors will give a talk on the seminar and teach us how to do a good research.
Princeton is located in the New Jersey State. It is convenient to go to nearby cities by train. I went to New York, Washington D.C and Philadelphia. I was in New York City on July 4th, the Independence Day of America. We went to Time Square, the Empire State Building and The Fifth Avenue, which are the most prosperous regions of New York. In Washington D.C, I went to see the White House and Capitol Hill. Here I learned a lot of knowledge about the history and culture of the United States. The last place I went to was Philadelphia. As the fifth largest city, it was once the capital of Unites States before Washington D.C. During these trips, I deeply felt the culture difference between the United States and Hong Kong. The U.S. people are very outgoing and enthusiastic. The Uber drivers like to talk with us about his or her own life. In my opinion, the reason is that America is an immigrant country, talking and communication are the best methods to let them know each other and accept different cultures.
Last but not least, I feel thankful for the opportunity to participate in this program. The experience enables me to go abroad and take part in the trend of globalization, which can enrich my knowledge and widen my horizons. My interpersonal skills, communication ability and language proficiency have also improved a lot as well. These things cannot be taught in regular class, and hence become the most important things I learned from this research experience.
LI Junrong Jerry (BSc in Computer Science)
Princeton Supervisor: Prof. YAO Nan 
Department: PRISM - Imaging Analysis Center
Overall experience
This is definitely a fancy and rewarding summer. I was always wondering what the feeling of doing research in a lab like a graduate student is like. Fortunately, REACH is a program targeted at enriching students with researching experience in the top universities. It gave a chance to all participants to conduct a summer research with the professors and other scholars in the advanced labs. And this platform met all my expectations.
We arrived at Princeton in a refreshing afternoon with a favorable temperature. The summer research program kicked off on a rainy morning with a warm welcome and a detailed orientation for all 9 REACH students. Then we started our work in our labs. We also got opportunities to attend all kinds of activities to enrich our life in weekends. We may also conduct our own field trips while there were no official arrangements.
Culture exposure
This is my second time to be in the US. There was less of a culture shock for me. But there is still a large cultural difference between the west coast and the east coast. In order to familiarize us with the local culture, Keller Center organized a series of Tea & Talks which consist of students from Asia, Europe, South America and North America. It is amazing to learn about American culture with them and share our points of view when we compared them with our native customs. It is a great chance to be exposed under a mixed group of students.
According to my experience, Princeton is a small community. The majority of the town is related to the university. So it has a comfortable and joyful atmosphere to study and live there. It is an excellent place to learn the culture from the people around us.
Social life
Keller Center organized a lot of interesting social activities for our program such as academic seminars, BBQ gatherings, ice cream/snack gatherings, field trips and Tea & Talks.  We got plenty of chances to meet with new friends and establish our friendship. The coordinators in Keller Center are hospitable and considerate. We kept in touch with them as well as other REACH students easily through the events. They kept updating us for news and gave us many useful advice on how to spend a weekend in the local way.
Princeton is a small and peaceful university town without the feeling of a large city. But one advantage of Princeton is that it is close to many famous cities in the east coast. It is close to the Newark airport and a ground transportation junction called Trenton. We visited several famous cities nearby. We traveled to Philadelphia, New York City, Washington D.C. and Boston during the weekends.
Learning experience
My work focuses on the software design of an atomic force microscope. I received gorgeous help from my supervisor and other scholars in the lab.  Dr. Yao took good care of me and prepared a few events for me to enrich my research experience including conferences, trainings and meetings. When I encountered difficulties in my research, he suggested me to calm down and build a clear structure of my problems. Then he helped me find the potential failures and gave me advice on the improvement and debugging of my project.
My co-workers Dr. Chen and Dr. Yeh also connected with me frequently to help me solve my questions and build test cases. They made me realize that during research, I should always be ready to learn new things and make use of the available resources. We should be ready to come up with questions and evaluate the current progress often.
Those are the most precious lessons I have learned from this summer research program.