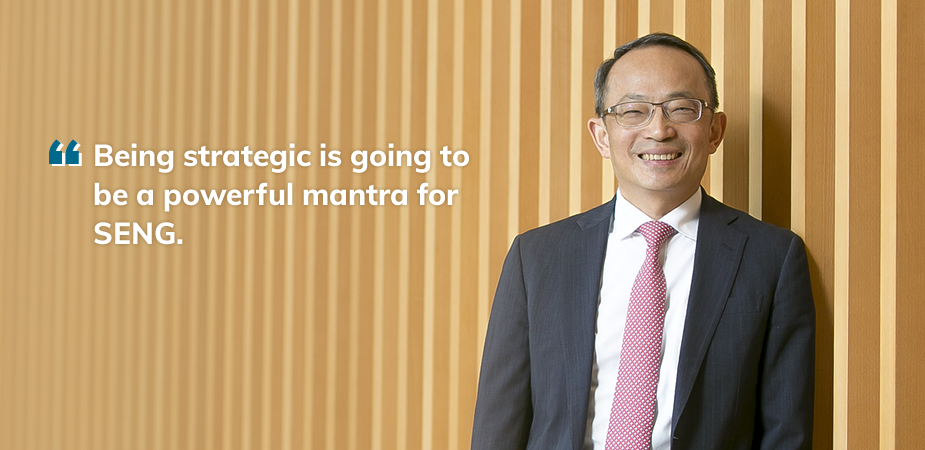 The power of engineering is often felt in the most understated manner. It is the quiet yet indispensable force driving and advancing multiple linchpins of society, be it energy, healthcare, security, climate, our environment and even the economy.
Indeed, the impact of engineers has become increasingly far-reaching, because their vision and creations have been powering emerging disciplines such as artificial intelligence (AI), robotics, big data, energy, and security, bringing us closer to the new goal—establishing our Sustainable Smart City.
A New Chapter in Engineering Education 
30 years on, the HKUST School of Engineering (SENG) has been a cradle of future engineers. While the School has continuously excelled in education innovation, it will achieve yet another breakthrough when it turns its well-received "experiential learning" courses into compulsory courses for Year 1 undergraduate students in 2 to 3 years' time. This means all our engineering freshmen will find themselves building engineering artifacts with their own hands to learn multidisciplinary knowledge, before diving into specific disciplines in their sophomore year and beyond. This forward-looking approach is going to equip our students with lifelong learning skills that will help them rise above the ever-evolving challenges that characterize today's world. 
In the age where engineering and innovation are more intertwined than ever, our city is hungry for professionals who can move fluidly between related or even contrasting disciplines with superb adaptability. Given this paradigm shift, I believe the School is at the forefront of nurturing a constant stream of diverse talents who will be capable of harnessing the latest knowledge and skills to keep our society's many key "engines" going. 
SENG, as the leading engineering school in Hong Kong and a globally revered engineering institute, strives to imbue its students with resourcefulness and a fervent desire to innovate. Here, we not only encourage students to get their creative juices flowing, but we also lead by example through reinventing our pedagogy. Now, with STEM (Science, Technology, Engineering and Mathematics) education coming on the scene, SENG has been its avid proponent at not just university but secondary and primary school levels as well, and we pledge to continue to bring the Engineering in STEM to life. 
New Opportunities, New Stimuli 
The nurturing of talent is the prerequisite for the long-term development of innovation and technology. As the Guangdong-Hong Kong-Macao Greater Bay Area (Greater Bay Area) is taking shape, a wealth of opportunities has been presented to give fresh impetus to the expansion of and advancements in engineering education, which will in turn benefit society in the long run.  
Since Hong Kong is playing its part to help the Greater Bay Area become an international technological innovation hub, HKUST and SENG are eager to explore and embrace this invaluable opportunity. For the University's new additional joint campus in Guangzhou, multiple thrust areas have been stipulated, encompassing aspects such as Artificial Intelligence, Data Science, Sustainability, Biomedicine and Biomedical Engineering, Digital Society, Robotics & Autonomous Systems, Advanced Materials, Smart Manufacturing and Entrepreneurship. Since most of these thrust areas are closely connected to the domain of engineering, SENG will endeavor to contribute its expertise and intellectual prowess, especially by supporting postgraduate studies in the first six years of the development of this new extension of HKUST. The curriculum is specially designed with international trends and the needs of the Greater Bay Area in mind, and we foresee subjects such as "quantum science and engineering" and "technological leadership and entrepreneurship" among the possible fields for us to explore in the future. 
Living and Breathing Engineering 
The HKSAR Government is steadfast in its determination to transform the metropolis into an international innovation and technology center. Echoing this ambition, and striving to inspire a culture conducive to innovations that can foster sustainability in all aspects of modern life, HKUST has kick-started its Sustainable Smart Campus as a Living Lab initiative in early 2019. Among the inaugural round of projects, SENG faculty and students are either leading or supporting most of them, addressing aspects ranging from energy conservation to smarter uses of campus resources, and we can continue to expect SENG's footprint in subsequent rounds as the university-wide initiative burgeons over time.  
Next-Generation Visionaries 
Entrepreneurship is essentially a wonderful amalgam of vision and courage, and SENG's illustrious line of graduates speaks volumes about the school's dedication to grooming thinkers and doers for the future. Coupled with the spirit to break new ground, our alumni's imagination and endeavors know no bounds. The wildest of ideas often germinate in their minds during school years, and they have gone on to carve places for themselves in fields such as engineering, academia and non-governmental organizations. With our dedicated faculty members passing the torch, as well as our comprehensive academic programs, first-rate research facilities, extensive partnerships in academia and industries, and an encouraging ambience, our graduates year after year have already been making a difference in the world and I believe a lot more success stories are to follow.  
All-Round Engineers in the Making
Engineering promotes advances in more ways than we can imagine, and while tirelessly pushing back the frontiers of engineering, SENG has early on acknowledged the need to also instill a sense of responsibility as well as awareness in our students of the flip side of technological advancement. Since AI and other advanced technologies are set to become an even more integral part of our lives as we move towards a "Smart" era, it has been SENG's mission to cultivate an understanding of how technologies can be double-edged in their influences, and to guide our students to approach engineering and technology with prudence. 
Engineering Our Future 
Looking forward, I believe "being strategic" is going to be a powerful mantra for SENG, as the School has set its sights on larger signature research activities. In this era, collaboration is paramount. Bolstered by a string of newly established joint labs with industry leaders in fields such as robotics, big data and blockchain technologies, SENG will continue to leverage HKUST's highly specialized research institutes to spearhead multidisciplinary projects. Fueled by our commitment to further diversifying our faculty portfolio via strategic hiring, with a particular focus on significantly increasing the presence of female faculty, SENG is poised to reach new heights in the exciting times ahead. 
Whether you are an aspiring student, researcher, academic or even potential partner, if you wish to venture into uncharted territory and become a game changer in the world, the HKUST School of Engineering is where you want to be. I look forward to embracing the changes in the Century of Engineering with you.  
Professor Tim Kwang-Ting CHENG
Dean of Engineering 
The Hong Kong University of Science and Technology