Princeton 2016 Student Sharing
Princeton Summer Undergraduate Research Program 2016: Student Sharing
The summer of 2017 was absolutely unforgettable for me when I had the chance to work as an international research student and spend a wonderful 8-week time in Princeton University. The program was joint-held by HKUST and Princeton Keller Center, and I was honored to work in Professor Craig Arnold's lab.  I enjoyed the time in the lab because it enriched me with the beauty of thinking and filling my thoughts with self-designed experiments. I learnt so much from my mentors, not only hands-on teaching in practical lab skills, but, more importantly, the systematic way of conducting scientific research. My project was related to silver nanowires (AgNW) as transparent conductive film for OLED. My lab work mainly focused on three areas, characterization of different AgNW geometry, nanowire alignment in spin coating and laser sintering/welding of the nanowire junctions. I also learnt to manage my time and how to plan for my own project. I really appreciate the freedom given to me as a young researcher in Professor Arnold's lab.
Princeton is so beautiful and living there you will never get bored, especially with new friends from all over the world. I made friends in the lab and everywhere around campus, in the gym, at the restaurant, at the concert. Everybody in the lab was willing to help each other out and the more we discussed, the more creativity and good thoughts came out.
The program always arranged various colorful activities for us. I was too busy to work, and meanwhile too busy to play. We had regular gatherings in the 'happy hour', REU talks and lunch, BBQs, weekly tea talks on American culture, kayaking on lake Carnegie, playing escape room, bowling, laser-tag, and parties.  We also travelled together to NYC, Philadelphia and Niagara Falls. We saw the city line of Toronto from Lake Ontario and there were rainbows at Niagara Falls! I also learnt a lot about the American history and art from various museums and historical sites including, MET, Philadelphia Museum of Art, National Gallery of Art, the memorial sites for the Princeton battle, the Liberty Bell, and the white house. Also did natural sightseeing, like at the Duke farm, fireflies photography, and hiking (the first time I saw a wild bear is on a hiking trail in the national park).
I strongly recommend this summer research exchange program to all those who are interested in research. It will broaden your horizon and international outlook. In the end, I'd like to express my sincere thanks to HKUST School of Engineering, Princeton Keller Center and Professor Arnold's group for the support in this program.
It was a great opportunity to join this research fellowship exchange program, hosted by Hong Kong University of Science and Technology jointly, as it was a fruitful and unforgettable experience.
I feel honored to join Professor Michael Mueller's group, whose research mainly focused on computational turbulent combustion. Before I arrived there, I tried to contact with the professor and got a rough idea of what my work would be. However, I found that I had no background on either turbulence or combustion and also this was the first time for me to touch computer simulation. So, I started to prepare with the very basic things. I spent some time brushing up on the Linux system, which the whole simulation work was based on, and watched videos about turbulent combustion. With a few preparations, I felt ready to put myself into work.
After arrival, I got a big welcome from my group mates. We had a barbeque to kick off this program and got a chance to be familiar with each other. The very tough moments always happen in the beginning. Although I learned Linux system by myself, I was still not familiar with those commands. The strategy I used was learning by doing. Only in this way could I get familiar with Linux system as soon as possible while saving time for work. With the help of other group mates, my work progressed as planned. What I did was developed the simulation code to make it work for dimethyl ether. Compared to the original code, I need to change the combustion part since the chemical mechanism was different. With the help of my lab mates, I made it eventually.
Other than research experience, my extra-curricular life was also great. Princeton University accommodated us to a fantastic castle-like dorm. We lived in four-person suite and shared kitchen utensils. I really appreciate the various enrichment activities held by Keller center. It helped us to mingle with students from other programs and build a social network. Every Thursday we had a happy hour to social with all other students, chatting and drinking. Also, we attended the "escaping room" and went canoeing together. The coolest experience was when we visited Niagara Falls with ISIP students. We built a strong connection with each other.
All in all, it was an invaluable chance to work and live in such an international setup. I would like to thank HKUST School of Engineering and KELLER center, Princeton University for providing the opportunity to participate in such a prestigious and fruitful experience. I would also like to thank my research supervisor, Professor Michael Mueller and my lab mates for guiding me throughout the project duration.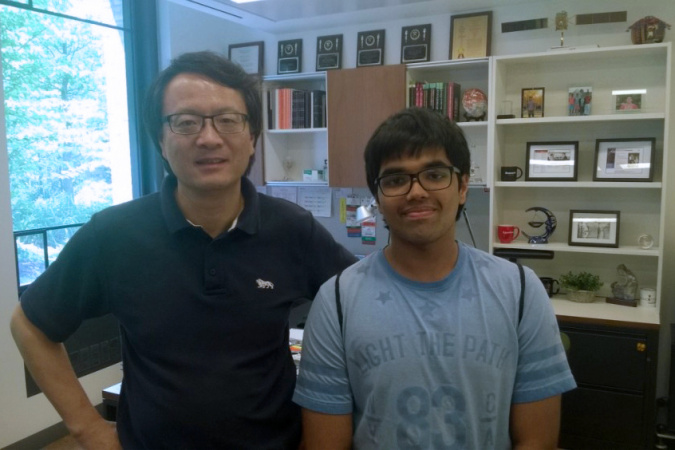 Being someone eager to pursue a career in academia, I was delighted on learning about my acceptance to Princeton's International Research Exchange Program (REACH). I was assigned under the tutelage of Dr. Nan Yao, one of the leading material scientists in the world and my department was the Princeton Institute for the Science and Technology of Material s(PRISM). Also, this was to be my first visit to the United States- and I looked forward to understanding the American way of life and culture first hand.
On the first day of the program, all students participating in the REACH program were greeted warmly by Lilian Tsang- who was our event co-ordinator from the Keller International Centre. We were taken on a tour around the campus- and I was left mesmerised by how splendid the Princeton campus was. Tree lined streets snaked their way across vast stretches of neatly maintained lawns- on the edges which stood massive stone buildings- among which the Neo-Gothic and Georgian styles of architecture were most prominent. Almost every building on campus bore immense historical significance- most notably Nassau Hall, which served as the United States Congress briefly after the American War on Independence and housed George Washington after the Battle of Princeton. On its walls, were plaques installed by every passing batch from Princeton- and seeing plaques from batches as far long ago as the mid-1800s reminded us of the longevity of the great institution. Later that day, a welcome barbeque was organized for us, where we had the opportunity to interact with students from various other summer programs. There were students and scholars of diverse backgrounds and fields- from different universities across America and Europe, and from fields ranging from biomechanics to quantum physics. Conversing with such brilliant students bubbling with ideas was enriching in terms of gaining a new perspective into existing problems and challenges around the world.
My field of research was that of electron microscopy- more specifically studying the motion of gold atoms when subjected to electron irradiation in a scanning transmission electron microscope.  This work could potentially contribute to making improvements in current sub-nanometre imaging systems, since in the scales involved, the interaction of the electron beam with the atom specimen being observed plays a huge role. This field lay in the realm quantum physics and discreet mathematics- and being a mechanical engineering major I was not very familiar with the aforementioned topics. This project, hence proved to be slightly demanding to me in the beginning, however I was soon able to develop an adequate background in the subject after copious amounts of literature review.  I thoroughly enjoyed the intellectual challenge my project posed, and the rigorous learning experience that it served as. Dr Yao, was immensely generous with his time and advice, and provided me invaluable advice and guidance, not only for my immediate project, but also for my research career in general.
Along with the research itself, the Keller Centre had organized numerous additional activities for us, in order to familiarize us with American culture and etiquettes. One of the most stimulating activities organized were the weekly Tea and Talk events- which consisted of discussions over tea in a casual setting. My favourite talks were those on American Etiquette, American Values and the American Presidential Elections. For the last one of the aforementioned talks, we were joined by Dr. Nolan McCarthy, who is the head of Politics at Princeton. The discussion led by him shed light on several contentious issues in the ongoing US Presidential elections, especially matters that seem perplexing to non-Americans such as ourselves- ranging from the gun culture in America, abortion rights and same sex marriage. While such matters might seem simplistic to outsiders, and almost seem strange as to why they would be controversial, developing a better understanding of the political and cultural context within America enabled us to take a more nuanced approach towards these matters and begin to grasp the subtle intricacies of such divisive topics.
Being able to interact with people from different parts of the US, and from different backgrounds in the course of my stay gave me an insight into the prevailing cultural norms and beliefs of the American people. One of the remarkable traits I witnessed was the pride that people took in their work, and that the qualities of industriousness and resourcefulness are deeply valued and sought after. There is a great degree of respect and dignity accorded to people from all professions- be with blue collar service sector workers or those with high paying jobs in the corporate sector- and this contrasts with the social perceptions existing back in my home country India, and to a lesser degree in Hong Kong. The people I had the privilege of interacting with were warm and welcoming, which greatly helped ease my apprehension, especially since it was my first visit to a country abroad apart from to Hong Kong.
The summer I spent at Princeton is inarguably one of the most memorable periods of my life. I forged deep friendships in the course of my stay, and I hope to meet the friends I made there again sometime. I'm sincerely grateful to SENG in HKUST and the Keller Centre at Princeton for organizing such incredible programs, and providing students and scholars from around the world opportunities to interact, collaborate and learn from one another.
My outreach program is called REACH program and it is held by HKUST and Princeton University. Located in Princeton, New Jersey, Princeton University is one of the best universities in the world. In history, there were a lot famous scientists working here such as Einstein, and Oppenheimer. I was so excited when I landed in such a perfect place. The main objective of this program was to conduct research with the faculty in Princeton University. My advisor is Professor Claire Gmachl, who is the best faculty I have ever met. As a famous scientist in the discipline of quantum cascade laser technology, she gave us some projects to choose from and always took care of us. Here I want to thank her for the kind help on the research. The first memorable moment is that I lost my luggage at the New York airport and it was the first time that I encountered this kind of accident. But after a week the airport told me they found it. Then I started my summer program.
First of all, I would like to say Princeton University really focuses on education. Every week, the department I was in (It is called MIRTHE) held a seminar where Princeton faculty can talk about their research highlights to broaden our horizons. What impresses me most is the field trip to Princeton Plasma Physics Laboratory, although I'm not a physics student, it is an amazing place to visit. In the end of the program, there was a conference-style poster presentation. To be honest, it enhanced my communication and presentation skills. You need to let others who may not have a background in your research field to know what you are working on. What's more, in this program, I met lots of students who are undergraduate in different American top universities. When talking and working with them, I can know the culture of United States and learn about the differences between HKUST and colleges in America.
Moreover, since Princeton University is close to New York City, it is easy to travel around in the weekend with friends. Travelling is also one of the most memorable moments I experienced. In the 8-week program, I went to Philadelphia, New York City and some places in New Jersey. In my opinion, reaching out does not only refer to academic reach-out, but it also means that you need to get in touch with local people, and the easiest way to do it is travelling. For example, one time I called an Uber, and the driver is a retired soldier from the US army. We talked a lot with each other about the culture in US and Asia. I'm happy to meet new people like him and it is pleasant to know more staff that I could not have known by googling on the internet. By the way, it is my first time to go to New York City. To be honest, the time square is really similar to Hong Kong. But what I don't like is that the streets in New York are really dirty and stinky, in that aspect, Hong Kong is better. Besides the places I went to, the people I went with are really good. I went with some Germans and Americans, and we shared different culture. I feel lucky that I can travel with those group of fabulous guys.
From this program, the first thing I learned is that you should be always be ready for new knowledge. I was very nervous on the first day when I knew that I would work on a totally new subject for me. But I learned that by asking questions and reading those materials. The second thing is how to communicate with others. It is my first time to work on such a big project with others, so the technical communications was really important. In the daily work, you need to divide your job with others and talk with each other on some details. Also, how to explain your project to others is also important. There are students in different labs from different programs. We always needed to chat with each other on their projects which can also help me to come up with some new ideas. In terms of knowledge, I learned many optical physics and quantum mechanics knowledge.
LIU Wen Jane (BEng in Chemical and Biomolecular Engineering)
Princeton Supervisor: Prof. Craig ARNOLD 
Department: Mechanical and Aerospace Engineering 
The Princeton Summer Research Exchange Program gave me first-hand experiences on conducting research in a world-renowned university and the abundant opportunities to communicate with international students have provided me with a deeper understanding and new views about foreign cultures. Consequently, this living experience in another country significantly improved my English proficiency, especially in listening and speaking skills.
Research
Throughout the two-month research internship, I worked in Professor Craig Arnold's group, more precisely, his energy subgroup; and the project I have taken part in most is on the improving the performance of magnesium-ion batteries by examining the best composition of its electrolyte. Particularly, our task during the summer was to figure out the role of aluminum halide in the electrolyte of magnesium battery and try to find some optimal amount of halide by the means of adjusting the proportion of aluminum halide in the electrolyte. In our lab, I have worked with my mentor Jake Herb most of the time, who is a PhD student in Professor Arnold's group, to discuss experimental setup, research plan, recent progress or results and solve problems that we encountered in experiments together. We communicated on a daily basis and Jake is a very nice and very helpful mentor full of chemistry knowledge and research experience. I cannot thank him enough for all the things he has supported and helped me with when I was at Princeton University.
Events and activities
The international center in Princeton University designed elaborate plans of different kind of activities that would promote international cultural communication and smoothen the course of foreign students getting used to American life, such as barbecue, ice cream socials, happy hour in bars and tea & talk. The last one was the series of activities that I attended most frequently, because it not only served us free and delicious lunch but also included some useful facts about the United States; for instance, at one time, the topic of tea & talk is the presidential election which is currently in full play in the United States. The international center invited a professor from the political department to inform us with basic political knowledge and answer any questions we might have about the political situation in the United States.
Accommodation, transportation and food
Generally speaking, our time at Princeton was very enjoyable. We were arranged to live in the Dod Hall, which is a very old and very beautiful building in the campus. Speaking of food, there are many options around the campus within walking distance, which was crucial for us international students who did not possess a car, such as Thai food, Korean food, sushi, Chinese food, barbecue, sandwich and salad, ice cream and frozen yogurt. I would definitely recommend two restaurants: Panera bread with numerous choices of delicious and healthy sandwiches and salads and a Mediterranean barbecue place with the most delicious grilled lamb I have tasted in Princeton, whose name unfortunately I have forgotten.
SUN Yushi, Jeff (BSc in Computer Science)
Princeton Supervisor: Prof. CHIANG Mung 
Department: Electrical Engineering 
The REACH program, short for Princeton Summer Research Undergraduate Student Exchange Program, is where Engineering students from both universities go to the other institute, and conduct research under the supervision of one faculty member. Apart from that, there was also individual cultural exposure and interaction with people from diverse backgrounds. It marked my summer with an ever-unforgettable experience.
Cultural Exposure
The US has a very different culture from that in China. For instance, American people prefer a strong handshake over a gentle handshake. Deep down it's due to Americans' appreciation of independence and strong personality. In their values, a person is considered respectable if he shows self-confidence. In contrast, Chinese people would like to hide their true intentions, especially those acute aspects, and values harmony among people more than expression of personal attitudes. We tend to hint our attitudes through indirect ways, and always be nice to people even if we don't agree. As a result, Americans seem more outgoing and social than Chinese people, even if both are nice and friendly.
Social Life
I was having a hard time blending into their party culture. Their parties were crazy. The sole purpose, from my point of view, was to get drunk. One of the games we played was called slap cup. You get 6 people around a table, on which placed 20 or so 1/3 beer-filled plastic cups. Two players grab one empty cup and one ping pong ball each, and they could pass the cup to the next player on the right by bouncing the ping pong off the table into the cup. If you get caught up by the player on the left while you hold a cup, your cup is slapped off, and the only way to get a new cup is to empty one of the beer-filled ones. The last cup in the center is called queen cup, which is fully filled. When the queen cup is drunk, the game concludes.
As a reasonable Chinese gentleman, I figured I needed more time to get used to such zeal.
Research Experience
I was assigned to Professor Mung Chiang, a young professor with very outstanding academic and entrepreneurial achievements. Busy as he is, he cannot directly mentor my project, but he kindly assigned me to two post-docs of his. It was amazing working with people that are smarter than me. Both of my post-docs were well-read, smart and diligent. Felix, for example, would stay until midnight to finish his paper. They appeared to have a lot of experience in the field of study, often they would mention something that I would not know, and they were always nice to explain it to me. I felt I could be one of them if I work hard enough.
Summary
Two months was too short for a true achievement in research to be done, but long enough to provide a first impression into the PhD life in the US. I'm glad I had chance to participate in such a great event!