SENG Teaching Excellence
SENG Teaching Excellence
The dedication to break the mould, innovate ways to impart engineering knowledge and inspire students to develop an engineering mindset most suited to their potential and personalities, is the mark of teaching excellence in the realm of engineering. Over the years, SENG has honored faculty members who have demonstrated exemplary insights and efforts when it comes to reinventing engineering education.
School of Engineering Teaching Excellence Appreciation Award
(known as Bechtel Foundation Engineering Teaching Excellence Award during 2002-2004)
The Award was established in 1994-95 to recognize the outstanding teaching performance of engineering faculty. Since 2004-05, the number of awards presented annually was limited to a maximum of 4 awards, including a maximum of 3 Teaching Awards plus 1 Distinguished Teaching Award.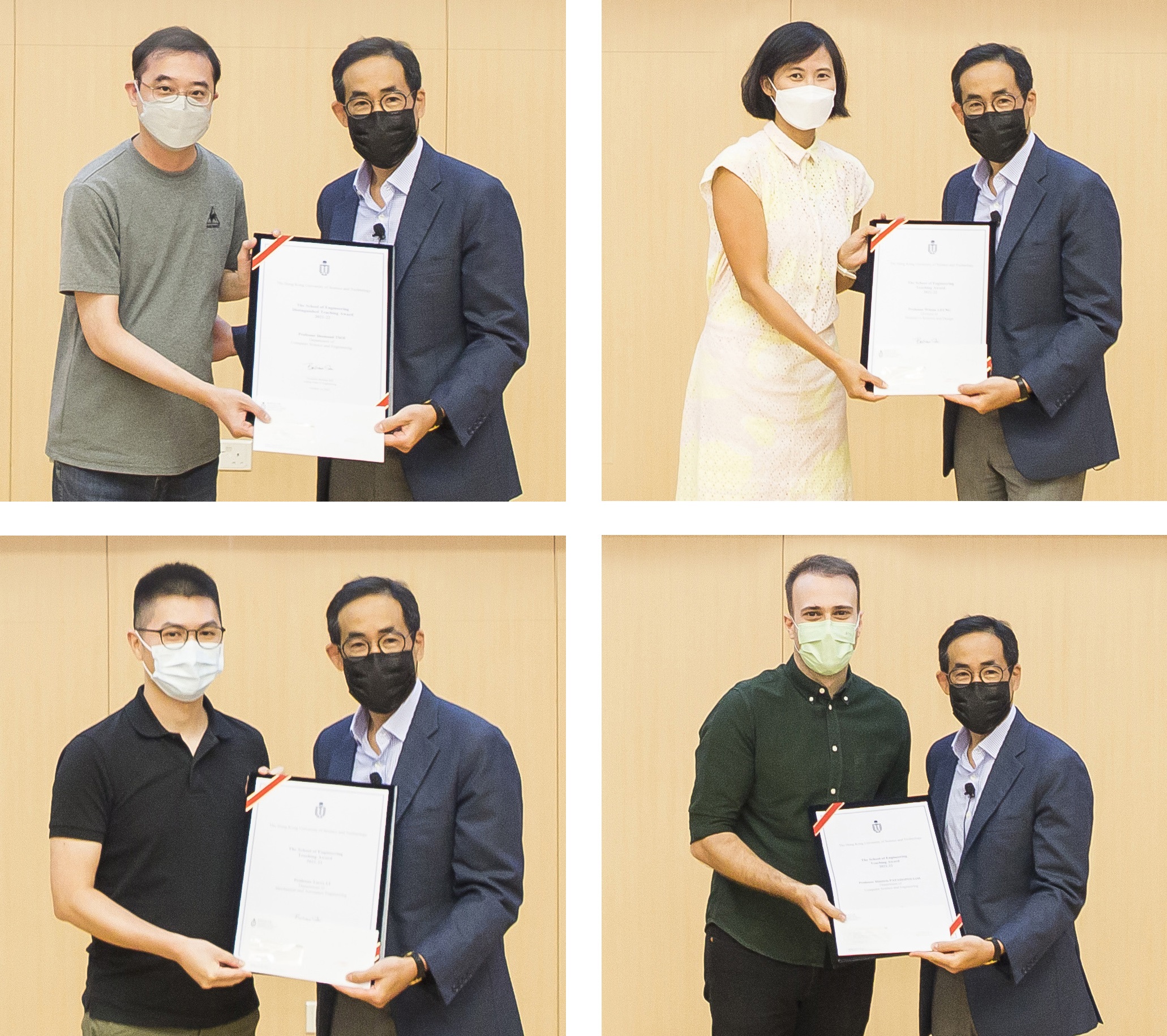 Recipients of School of Engineering Teaching Excellence Appreciation Award 2021-22: Prof. Desmond TSOI (top left), Prof. Winnie LEUNG (top right), Prof. Larry LI (bottom left) and Prof. Dimitris PAPADOPOULOS (bottom right), were presented with the awards by Prof. Bert SHI.
List of recipients of Teaching Excellence Appreciation Award (from 2017-18 to 2021-22)
Awardees with * were selected for the School of Engineering Distinguished Teaching Award
Year

Recipient

Department/Division

2021-22
Computer Science and Engineering
Integrative Systems and Design
Mechanical and Aerospace Engineering
Computer Science and Engineering
2020-21

Chemical and Biological Engineering

Computer Science and Engineering

Mechanical and Aerospace Engineering

Electronic and Computer Engineering
2019-20
Prof. David ROSSITER*

Computer Science and Engineering

Civil and Environmental Engineering
Chemical and Biological Engineering
Computer Science and Engineering

2018-19

Computer Science and Engineering

Chemical and Biological Engineering

Civil and Environmental Engineering

Electronic and Computer Engineering

2017-18

Civil and Environmental Engineering

Computer Science and Engineering

Computer Science and Engineering

Mechanical and Aerospace Engineering
View the Full List of Award Recipients from 1994-95 to 2021-22