Princeton 2017 Student Sharing
Princeton Summer Undergraduate Research Program 2017: Student Sharing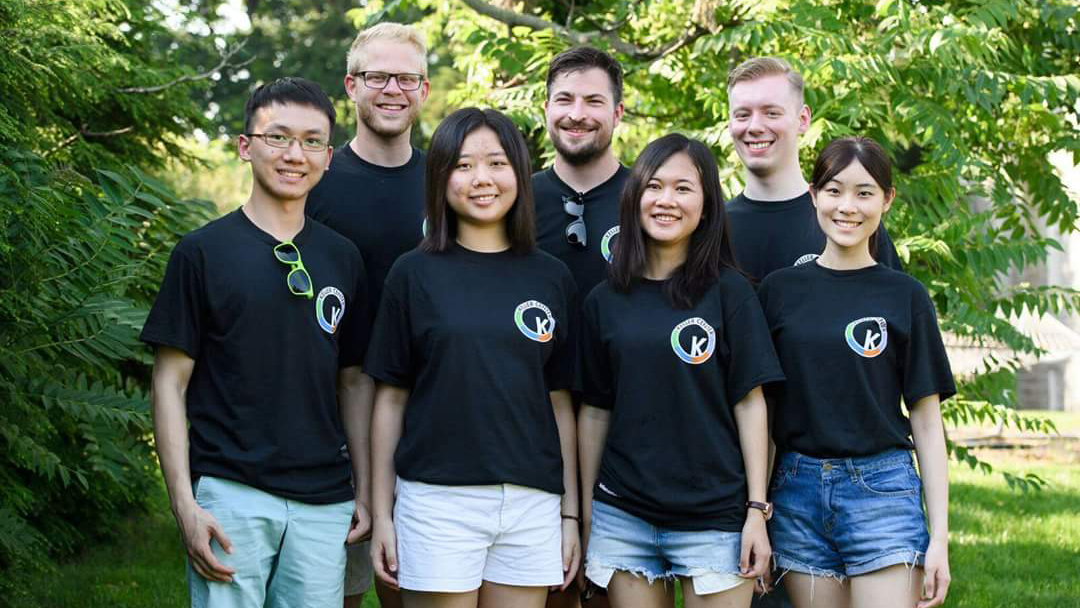 Research 
I worked in Prof. Mung Chiang's lab, the Edge lab, and more specifically, I worked with a post-doc and a PhD student on a machine learning topic, probabilistic models for MOOC (massive open online course) forums. The research experience was challenging, yet very interesting. I started with reading books and papers, moved on to discovering facts and problems in data analysis, and then experimented with the models that we designed. I struggled a lot, but thanks to my helpful mentors, that is, the post-doc and the PhD student, I managed to tackle the challenges step by step. Through the process, I gained not only knowledge related to the research topic, but more importantly, a valuable research experience of discovering and solving problems. Besides my mentors, other people in the Edge lab were also nice and gave me useful advice, so I am really grateful for the opportunity to be in this lab. 
Meeting People 
Since I was working inside a large PhD student office, I often chatted with the PhD students sitting around me and got to know more about life in US/Princeton. I learned many differences between lives in US and in Hong Kong, ranging from personal finance issues, like purchasing a car, paying taxes, to social life, such as greeting and giving gifts. Also, they are a group of intelligent and creative people, and I was inspired a lot by their ways of thinking and solving problems. 
The Keller Center, who were in charge of the REACH program, often held events and offered us chances to connect with students from other summer programs. Through the events, I met students from different universities and different research areas. I learned about the lives at their home universities and their ambitions about research and future career. This helped me broaden my eyesight and reshape my ideas on my career. 
Life in US 
Princeton University is located in a small quiet town, with friendly people and beautiful scenery. Strangers may greet each other with a smile or a short "how are you", and people are willing to help give directions or hold a door open for others. There are many good restaurants and dessert shops in town, or in adjacent towns which take around a ten minutes' drive from Princeton, which we, as foodies, love to explore. There are also inexpensive but delicious ones near the engineering building, such as Panera bread, offering many healthy choices of salads and sandwiches, and a sushi restaurant which is very popular among students. One pitiful thing is that none of us can drive, and it may be inconvenient to get around without a car in US, because buses are not frequent and Uber may be expensive. 
During the two months, I traveled to New York and Philadelphia. New York is a dynamic, busy and expensive city, and is a two hours' trip away from Princeton by train. It was an interesting experience to witness the crowdedness at Times Square, feel the leisure at Central Park, learn about the history of US independence at the Statue of Liberty and see so many valuable art works at the Met museum. I went to Philadelphia with other Keller center students, and it was a wonderful trip. I tasted cheesesteak, a famous kind of sandwiches in Philadelphia, and visited the Independence Hall, a historical site, where I got to know more about American history. Besides, I also went to adjacent towns, either to go shopping at outlets, or to explore restaurants. These trips helped me better understand the American culture and life.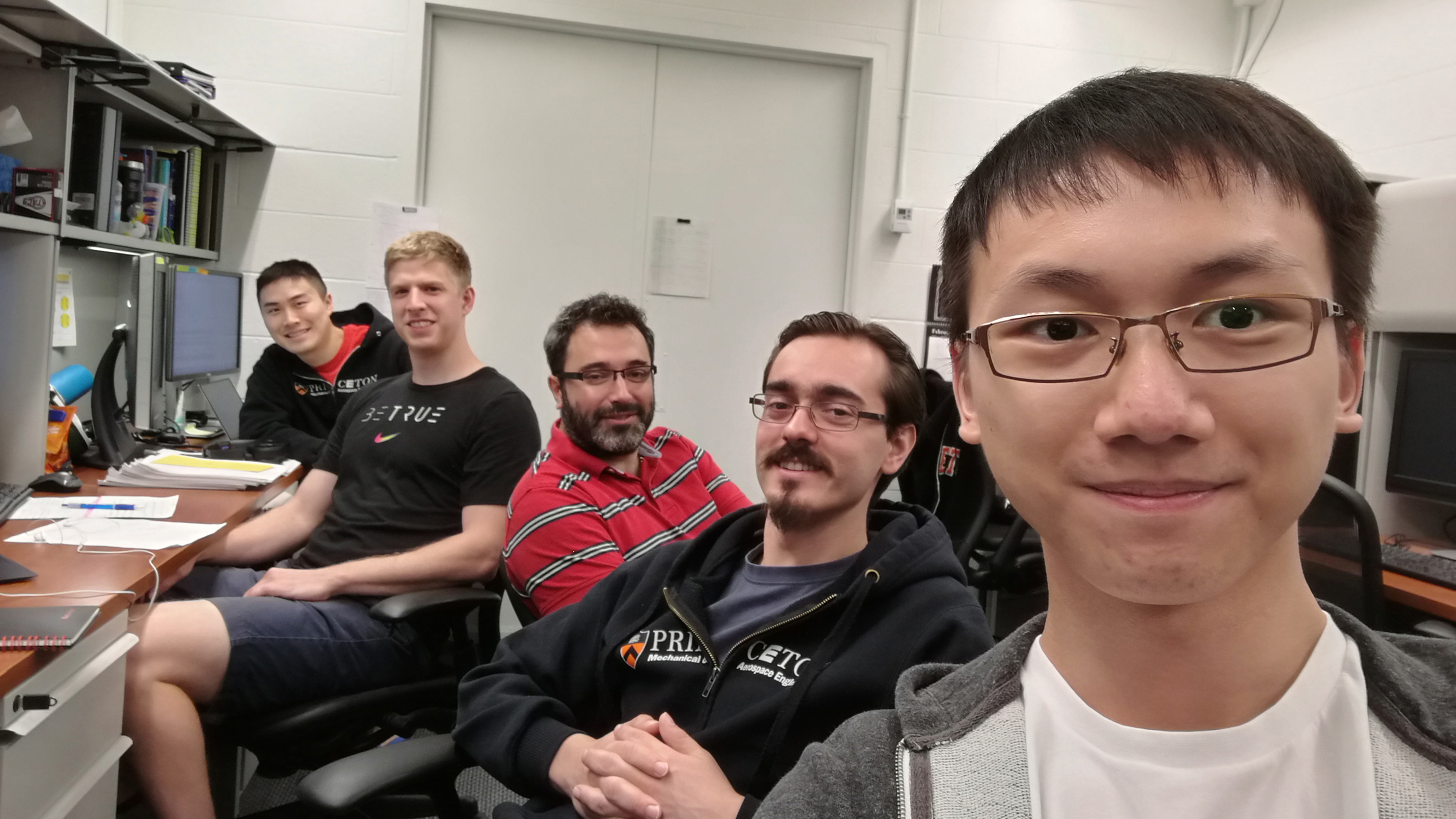 In this summer, the most important and frequent thing I did was research. Doing research in Princeton University is one of the most fascinating experiences in my academic life. This program has offered me a position in the Computational Turbulence Reacting Flow Laboratory, surrounded by machines and other helpful PhD students, and let me initiate my own research. My supervisor, Professor Michael E. Mueller, was full of wisdom and modesty and willing to spend his time with his students. He has provided me with many useful guidance and encouragement. As a student who plans to achieve his PhD, I really appreciate this valuable real research experience. 
The topic I chose was Chemical Kinetic Uncertainty Quantification of Large Eddy Simulation for DLR Flame, which is in the field of combustion and computational fluid dynamics. Before I came to Princeton University, the only thing I knew about this topic was from one CFD class that I took during exchange. I was lacking of knowledge about combustion, reacting flow and all other computer skills. I was once afraid that I was disqualified and not welcomed by the laboratory, but it turned out that professor Mueller and all his PhD students were really enthusiastic about helping me. They were always available when I had problems about my research, even though they are working on topics that were entirely different from mine. I worked 9 hours a day, from 9 am to 6 pm, after which I spent my time in the dormitory to learn the required knowledge. Although it was really tough to get things started, I managed to learn Linux commands, download the libraries and compile the programs. That took me a long time, but it was worthwhile, because I could start my project with more confidence and background. Afterwards I computed the flamelet solutions of DLR flame and ran LES with uncertainty quantification. It was an interesting experience full of trial and error, from which I learned a lot about research. Because it took me very long to prepare for the research, I didn't finish my topic eventually. There was a bug in the program after we tried to enable the uncertainty quantification calculation. I spent the last week trying to solve this problem but was not successful. However, I was still satisfied about what I had achieved. The final presentation was successful and this project will be continued and finished by other students in the group. 
There are three milestones for my summer research, and I can still remember the feeling when I overcame the first two. The first milestone was to make LES operate. It was complex for a student with little computer background to make every compilation flag right. There were four libraries and one LES program, for which every settings of compiler must match with each other and also take the system condition into consideration. Moreover, to make the LES program run properly, the input file needed to be modified again and again to achieve stability and convergence. After three weeks of trial and error, the solutions finally became stable at the 100 iteration. Normally stability will be determined in the first 10 iterations, so I could have never known the success if I didn't wait for another 90 iterations. I was really delighted that day and I could finally start my work in the steady flamelet solutions. The second milestone was to obtain the correct flamelet solutions. Because I was researching uncertainties, I calculated the mean and standard deviations for the temperature and species mass fraction of every part of the flame. However, the firsthand result was very different from previous studies and the curves were messy. Professor Mueller helped me find the problem, which was related to the enumeration of mixture fractions used to calculate the properties. Because the curves contained curvature and weren't straight, different enumerations would result in the need of linear interpolation, which induced large amount of inaccuracy. After I understood the problem, what I needed to do was to abandon what I had done for the entire week and redo everything. I was reluctant at first, but then I understood repetitive works should also be an inevitable part of real research and the determination of researchers should not be diminished by a small obstacle of this kind. Luckily, because of familiarization of the procedures, it only took me one weekend to complete the flamelet solutions again, which was smooth and beautiful, and similar to previous researches. Finally, the last milestone was to enable the original program with one more function, which was calculating the uncertainties. This was the most challenging task. The debugging process was tough, and I didn't complete the debugging in the time limit. I was a bit disappointed, but my supervisor gave me a lot of encouragement. After I knew this project would be kept going by other students and be completed in near future, I felt released and decided to keep in touch with professor Mueller to get the latest information. 
Princeton Summer UG Research Program really taught me a great deal about research, which I can hardly learn from daily coursework. Research requires long-term devotion and persistence. Research needs motivations and creativities. The research path can never be smooth. It is full of obstacles and zigzags, but there are always surprises and stimulations. In this summer, there were inevitable repeat work, coincidence and the combination of creativity and empiricism. Every day in the laboratory formed a wonderful summer. Gradually, my professor, the other PhD students and the daily works, created a profound influence on my understanding about research, and I became more motivated and looked forward to my research work after graduation. Moreover, different from the undergraduate research opportunity program in HKUST, I got closer interactions with the professor in this summer program. The direct assistance from the professor made me feel confident and determined. It also made me feel that my works were considered serious and I was making real contributions to the laboratory. The feeling of attachment and contributions were important for me because I was only an undergraduate and my ability was not comparable to the PhD students. Therefore, I worked with more motivation and enthusiasm in the laboratory. 
Except for the research work, this program was also a great chance to enjoy the American culture. Many events were arranged by Keller Center. We had gathering buffets and seminars every week, in which students of all programs in Keller Center had lunch together and listened to a speech made by some professors. The professors are nice and humorous and we got informed of many cutting-edge technologies and researches. Apart from these weekly activities, we had three seminars about cultures, which was called Tea & Talk. In these events, Keller Center staffs and us sat together exchanging our ideas about culture differences. We discussed American culture, the culture of our home country and their differences. It was really beneficial to know the common values and outlook of life from different countries. In addition, we had three field trips. We went to National Plasma Physics Laboratory, Princeton sculpture park and Philadelphia. We were impressed by the sophisticated equipment in the lab. And we enjoyed ourselves in the sculpture park. The sculptures were beautiful and vivid. We had a great time in the trip to Philadelphia.  
We visited the Liberty Bell which stands for freedom and justice. In all three trips, we were accompanied by staffs of Keller Center. They were considerate and friendly, and they provided us with lots of happiness and convenience. Apart from the activities arranged by Keller Center, our laboratory also had weekly gatherings, in which every lab member presented their most recent progress and had lunch together in the meeting room. Moreover, Professor Mueller once took all lab members to eat pizza on one Friday. We talked about our hobbies and interests, and created a great memory together. Finally, in the department of mechanical and aerospace engineering, there were cookies and coffee served every afternoon, and donuts every Monday, which created a comfortable atmosphere for the labs and departments and made us happier with our works. There really were many events during the summer program, which colorized the research life and impressed us with beautiful American scenery and culture.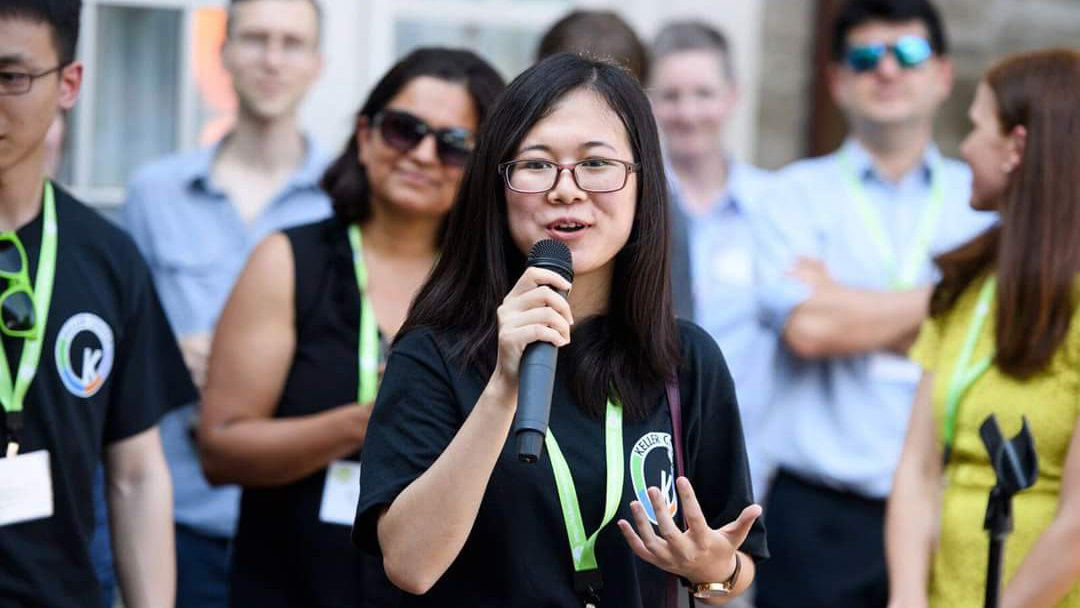 This two-month exchange experience in Princeton University was fantastic. We were in REACH program, a summer exchange research program held by Keller Center in Princeton University. Students in this program work as full-time internship researchers in Princeton labs for eight weeks during the summer. I was so lucky to be supervised by Prof. Claire Gmachl, the director of MIRTHE. Zimo Li, a participant in 2016, described her as the best faculty he has ever met. I totally agree with him, she is a dedicated and thoughtful researcher. Busy as she is, she comes to lab several times every day to discuss the current progress with all the students. She is really an expert in her research area and quite familiar with all the works being done in the lab. Every time I got stuck, she was the one who provided so many precious suggestions. 
I worked with a graduate student, Ming Lyu and the main topic was design and test Mid-infrared optical coherence tomography(OCT) system. I was disappointed at the beginning, because the fabrication of the resolution sample took a long time due to all kinds of physical limitations. I have experienced quite a frustrating period when we figured out that it was super difficult to convert a commercial FTIR to OCT. Thanks to this experience, I have learnt that research was all about trial and error. When doing research, the courage to face the failure and to continue struggling with all the difficulties is the key to success. 
The communication with all the graduate students and summer students made this summer even more fruitful. In the lab, you would have opportunities to discuss with all the graduate students. They were enthusiastic and had lots of great ideas about research. When having questions, it would be a great choice to ask for suggestions from them. Prof. Claire Gmachl supervised many summer students and she was so thoughtful that she arranged lots of meeting chances for all the summer students to share their experience. Besides, Keller Center held other summer programs, such as elab and tiger challenge. Students in these programs were in the same hall with us. Majority of them were students from universities in the United States. Some of them worked on entrepreneurship projects and communications with them were also unforgettable.    
Except the lab work, the host institute has arranged lots of interesting activities for us. There were three TEA&TALK seminars during the two months for international students to help us know more about American culture and to share the culture differences. Besides, there was a weekly seminar held by Princeton faculty to give us a brief introduction of their research areas. It was a good opportunity for us to expand our horizons and explore new ideas. Furthermore, lots of interesting field trips were arranged by the host, including trips to Universal Display Corporation, Princeton Plasma Physics Laboratory, Grounds for Sculpture and Philadelphia. 
To sum up, it was the greatest and the most productive summer that I have ever had. Even though I had a tough period of struggling with the research work and the sweating evenings in the hall without air-conditioners, what I have obtained from this experience made all the struggles worthwhile. 
YU Zheqing Ariel (BEng in Computer Science)
Princeton Supervisor: Prof. YAO Nan
Department: PRISM - Imaging Analysis Center
I worked in the Imaging Analysis Center under the supervision of Dr. Nan Yao. It was the first time that I was given tasks I'm totally unfamiliar with. Nan once told me that the essence of research is about looking back on the past research achievements while doing trial-and-error on new possibilities. It is the unknown and uncertainty that makes it so beautiful and fascinating. Therefore, though I study computer science back in UST, I tried to dig into literatures in material science and physics and learned to use scanning and transmission microscopes, which makes the experience so unique to me. Nan is a great supervisor who has a real passion on science and technology. He taught me patiently the principles in material science and microscopy whenever I encountered problems. He is also very nice as a person and was willing to share with me stories of his sons and former students in Princeton. The greatest gain of my REACH experience is to learn how to divide a project down into manageable tasks and adjust quickly when no one else tells you what to do or pushes you towards certain goals. 
Apart from research life, Princeton Keller Center also offered a variety of social events to REACH students. The whole program kicked off with a barbecue in one of the eating-club houses, where we mingled with students from other summer programs, such as E-Lab and Tiger Challenge. While REACH is more research-oriented, those programs basically serve as incubators for Princeton student start-ups and encourages students to develop entrepreneurship and technology leadership. During our stay here, we joined field trips (Princeton Plasma Physics Laboratory), weekend excursions (Philadelphia, Grounds for Sculpture), tea & talk sessions (with different topics each week, for example, America culture talk) and academic seminars together, exchanging our ideas and sharing with each other our thoughts and experience from different perspectives. 
Since Princeton is located in such a favorable place, I was able to travel to Washington D.C., Baltimore, New York and Boston during my stay here. It's been a good time for me to visit the schools and cities so as to get prepared for the application for graduate school in the coming fall semester.