Rising Star in Integrated Circuit Design Strives to Make Waves in Electronics World
Thumbnail Title
All Eyes on the Chips
Rising Star in Integrated Circuit Design Strives to Make Waves in Electronics World
Body
The world of electronic engineering is constantly evolving, with new technologies emerging every day. One technology that has become increasingly popular internationally in recent years is the integrated circuit (IC), a semiconductor chip on which electronic circuits are designed and mounted, making it an essential component in modern-day electronics. At the forefront of this exciting field is Sarah FENG Shuo, a PhD student in Electronic and Computer Engineering at the Hong Kong University of Science and Technology (HKUST), also a young and dynamic female go-getter who is set to make her mark in the world of chip design. Let us take a closer look at Sarah's academic journey and her passion for IC design!
It all started with a phone
Sarah's fascination with the mysterious iron box, which is a phone, began at a very young age, igniting an interest in electronic engineering that shaped her future. Witnessing the captivating sounds and flashing lights coming from a tiny little box sparked her curiosity and she was desperate to know how the seemingly inanimate chips inside the phone could harmoniously interact with humans. Over time, she became immersed in the technologically advanced civilization that surrounded her. Today, Sarah chose to pursue her PhD degree at HKUST's Integrated Circuit Design Center, with a background and research focus on high-speed communication IC design and power management IC design. She is living proof of how a simple curiosity can lead to great things.
Setting goals and catching dreams
On a mission to become a leader in next-generation IC innovations, Sarah wanted to devote her career to understanding the high-speed and high-frequency integrated circuits for applications in sensors, photonics, biomedical devices, and communication systems. She is mesmerized by the research of her supervisor, Prof. Patrick YUE of the Department of Electronic and Computer Engineering, on millimeter-wave communication and high-speed wireline communication IC design. "Inspired by Prof. Yue, I hope to further investigate the significant design effort for transmitters (TXs) and receivers (RXs) to support the ultra-high-speed wirelines and modern mm-wave transceivers, for standard planar CMOS technologies and for more advanced techniques," she said.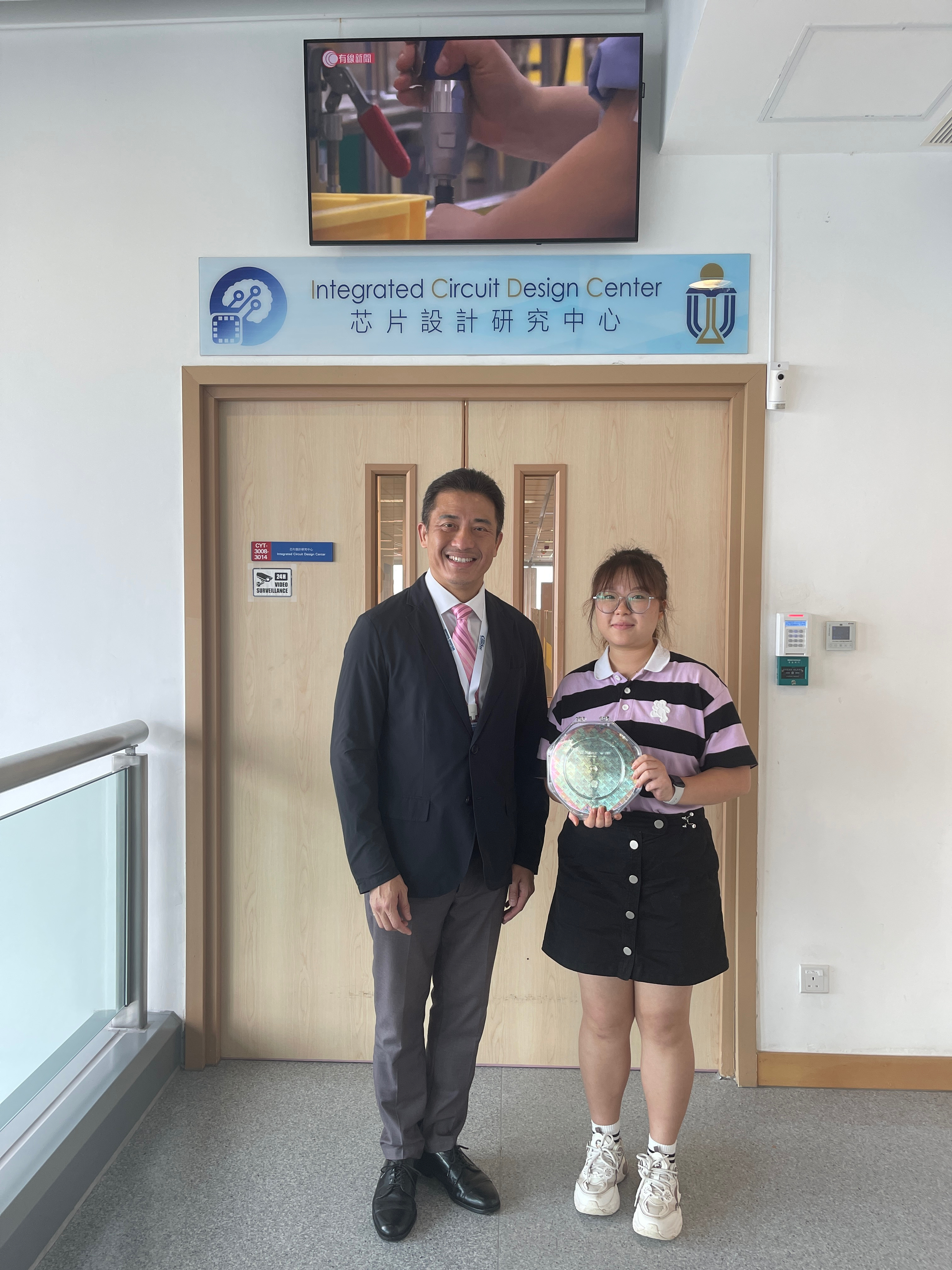 Sarah (right) is deeply intrigued by the research conducted by her supervisor, Prof. Patrick Yue (left) on millimeter-wave communication and high-speed wireline communication IC design. They took a photo in front of the Integrated Circuit Design Center at HKUST.
From textbook to practice
Being a hardworking and ambitious student, Sarah not only excels in her studies and research but also takes on the challenge of organizing various IC design related conferences. Despite the daunting task of managing multiple responsibilities, she is able to push her limits with effective planning, prioritization and time management. She gains a sense of accomplishment from transferring her textbook knowledge into practice, such as conducting research, building circuits, and arranging symposiums.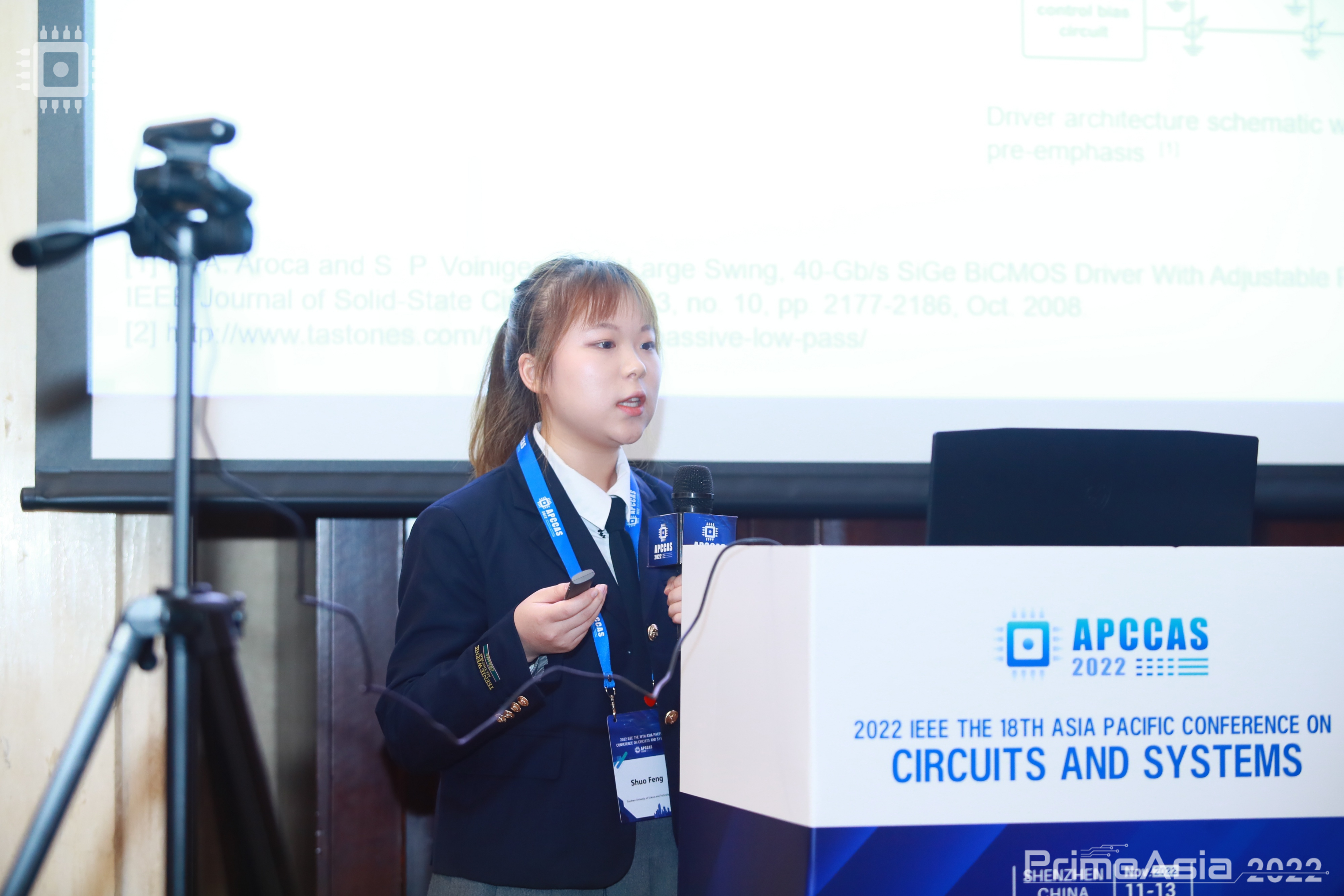 Planning and arranging conferences on IC design is what Sarah enjoys doing, as it enables her to keep up with the latest trends in this fast-changing industry and share her expertise with the audience.
Attracting and retaining talents in Hong Kong
Although Hong Kong has a strong academic and research presence in chip design, Sarah identified that the current shortage of IC design talents is hindering its development momentum. To tackle this challenge, she believed that it is necessary to implement educational programs, strengthen industry collaborations, and launch talent retention initiatives to keep the skilled professionals.
"Institutions like HKUST are already leading the way with relevant programs and cutting-edge research. With the Hong Kong government now backing the technology sector, particularly IC design, it can help with talent acquisition. Funding programs, incubation centers, and collaboration with Mainland China could attract investments, while also fostering a conducive environment for the growth of circuit design," she commented.
Stepping into the world of IC design
Sarah recommended IC design as the go-to field for young engineers. "Chip design always requires solid theoretical knowledge, simulation, and testing, which stimulates a comprehensive thinking approach. With diverse perspectives and collaborative teamwork, circuit design engineers develop the ability to think holistically," she emphasized. "For students who are interested in IC design, I encourage you to gain practical experience by joining electronics clubs, taking part in competitions, or applying for internships that let you work on real projects and build circuits. This will help you put your knowledge and skills into execution." She hopes to inspire young engineering students to join this electrifying field.