Dream Big, 3D-Print Big
Body
From custom-tailored jewelry to creating prosthetics and surgical tools in healthcare, 3D printing has advanced from consumer-grade to high-end industrial-grade capabilities. Allowing greater design flexibility, producing less material waste, and offering the option of print on demand, the new technology is opening a whole new world of possibilities for your dream products.
While metal 3D printing is increasingly used in industries like aerospace, automotive, architecture, and education and research, the durability of products remains an issue as products made by this method can be prone to cracking.

The award-winning technology overcomes the problems of high thermal stress and brittleness in metal 3D printing.
Alexandru Tiliță (Alex), a PhD graduate from the Hong Kong University of Science and Technology (HKUST), is one of the pioneers who joined the fleet to revolutionize metal 3D printing. He has achieved a technological breakthrough that enables industries to enjoy all the benefits brought by metal 3D printing while ensuring the quality of outputs.
His cutting-edge invention has recently won a Gold Medal with Congratulations of the Jury at the 48th International Exhibition of Inventions Geneva. Running his own start-up, he is in collaboration with businesses in various sectors to bring the fruits of his research to practical use.
Customized solutions for industries
Enthusiastically introducing the "metal 3D printer for the future" in his company's laboratory in Fo Tan, Alex says the revamped technology can save industries up to 90% of production time while improving product durability up to 200 times compared to other 3D-printed products.

A customized 3D-printed tool for tightening a component in Boeing 777 airplanes.
The scientist-entrepreneur shows a small metal object that resembles a candy cane (above) in shape, and explains that it is a professional tool used for tightening a specific component of the horizontal stabilizer in Boeing 777 airplanes, breaking of which will increase the risk of aircraft horizontal instability.
"Traditionally, such a tool made by welding would break after just a few uses. We are working with an aviation company to improve its durability with our technology so that it will last long."
His company has also designed and printed an orthodontic surgical tool with the help of an orthodontist in Hong Kong, for dentists to perform a new gum operation procedure and a customized machine part for a utility company, among other products.

(Left) An orthodontic surgical tool for dentists to perform a new gum operation procedure, and (right) a dental root used in dental implants.
Conventional manufacturing methods generate significant material wastage as objects of varying shapes are produced by cutting, hollowing, and drilling. In contrast, 3D printing utilizes a computer-controlled process that adds materials to create desired forms, reducing costs for businesses and bringing environmental benefits from material savings. But there is a shortcoming.
"Many metal 3D printed tools and machine parts have short life spans due to two conditions in the production process. Firstly, when a laser melts a small area of the metal at a very high temperature, the area around is close to room temperature. The huge difference in temperature creates thermal stress. Secondly, the object cools down very fast after 3D printing, creating brittleness. When high stress and brittleness are combined, cracks are formed on the inside, which significantly reduce the durability of the product," Alex elaborates.

Metal powder is put into the machine to 3D print various products.
Manufacturers can go through some extra steps to strengthen the 3D printed products. While the additional processing takes up about 90% of the production time, it often brings only very minor improvements to the durability of products.
To overcome this problem, Alex has developed a technique known as ultrasonic selective laser melting, which uses ultrasonic waves to control how individual metal crystals form at a molecular level in the 3D printing process.
"What we can do is to reduce residual stress, and, as a result, minimize the brittleness of the 3D printed object." Because stress control has been integrated in the 3D printing process, this new method also saves time significantly because manufacturers do not have to go through the extra steps of metal stress relief.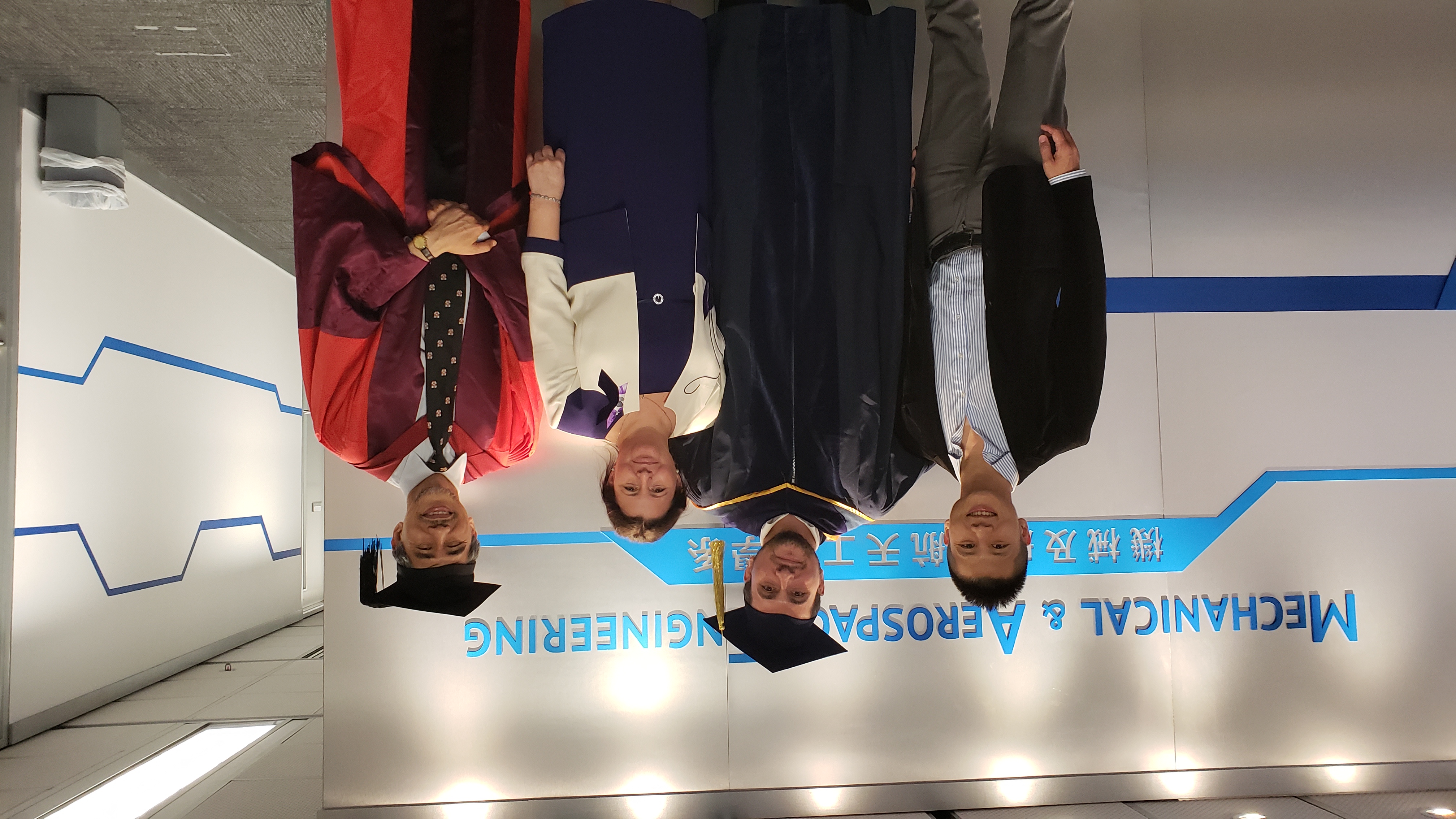 Alex (second from left) thanks with his mother (second from right) for her support to pursue his dream, and his PhD project supervisors Prof. Mathew Yuen (far right) and Prof. Robin Ma (far left) for their academic guidance
Dream big, fly high
Alex's ambition to innovate in science started early. As a small boy born and raised in Romania, he was fascinated by the spaceship voyages in the American science fiction series Star Trek. "I became a tech nerd at a very young age. My dream was to create technology that could push forward human progress."
After earning a bachelor's degree in non-conventional manufacturing engineering in his home country, he came to Hong Kong in 2012 to pursue PhD studies at HKUST's Department of Mechanical and Aerospace Engineering, where he immersed himself in metal 3D printing research.
"By the time I started my PhD program, the consumer-grade plastic 3D printing revolution had already sparked a whole new makerspace worldwide. So, I decided it was time to go for metal industrial 3D printing," he said.

3DK Tech, co-founded by Alex (left), won the Special Jury Award at HKUST MBA Fosun Technopreneur Competition in 2018
To bring his innovation to the market, Alex has co-founded a start-up called 3DK Tech, with the support of HKUST resources including the Yeung Wing Yee Entrepreneurs Fund, the Technology Start-up Support Scheme for Universities, and the Entrepreneurship Fund. His next goal is to launch the sale of commercial metal 3D printers to corporations, in addition to printing for clients.
And he has an even higher target.
"In a few years, I hope to see a rocket engine built with our technology journeying to space," Alex smiles, reminiscing his childhood dream of space adventures.
Related link:
(This news was originally published by the HKUST Public Affairs Office here.)