MSc in IC Design Engineering - Student Sharing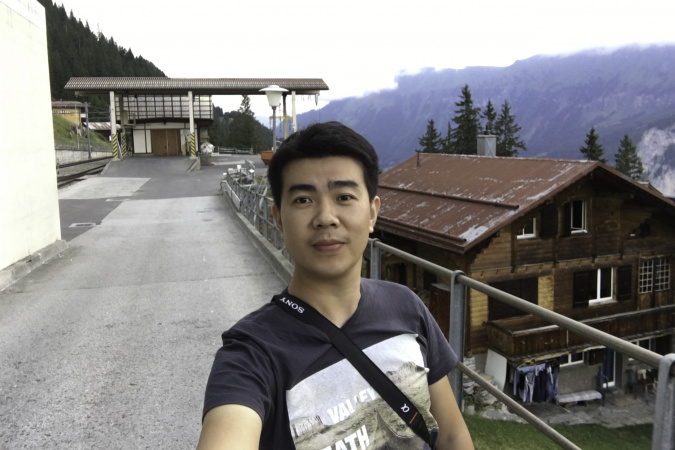 SAI Saing Kham (Myanmar, Class of 2020)
Choosing to come to HKUST was one of the best decisions I have ever made in my life. We have such a beautiful campus with so many amazing views, especially the views from our library, it's breathtaking! These soothe your soul and boost your mood of studying for long hours.  Although sometimes workloads could be quite overwhelming, but we always get the supports and helps that we need from our professors who are the experts in their fields. All our professors from IC design engineering program are not only excel in teaching, but also very kind and always approachable. I couldn't even believe that I would learn that much from this one-year master program. Looking back for the past one year, all the hard works really paid off now that I believe I'm well prepared for my lifelong learning. If one is decided to put in enough effort on his/her learning journey, I can confidently recommend this world-class program of MSc in ICDE taught by the world-class professors at the world-class university, HKUST!
CHEN Ziyang (Mainland China, Class of 2020)
Learning microelectronics is challenging, not only requires the understanding of solid theoretical knowledge such as semiconductor devices and circuit theories but also needs to gain practical circuit design experience and to become familiar with EDA tools. This program offers intensive training that shapes a fresh graduate with basic electrical backgrounds as a junior IC designer with the above knowledge. Personally, my favorite part of this program is the MSc design project that we designed our first chip within a semester and a half! 
ALI Hassan (Pakistan, Class of 2020)
All I have to say is studying IC design Engineering in HKUST was a good and challenging experience. The program covers all the fundamentals of IC design with experienced professors who are there to help the learner to get learned. After studying the IC design program, I come to know how the semiconductor industry works and how chips are designed and fabricated. My message to future students is that if they are willing to design chips, HKUST is a very good place.
BAO Heng (Mainland China, Class of 2020)
The time of my study in IC Design Engineering program at HKUST is an important part of my life journey. The professors of the program have diverse knowledge, research experience and industry experience. They give me motivation, teach me knowledge and let me known how to learn efficiently. In this program, you will not only learn the theory but also have many opportunities to practice. You may encounter some challenges in the learning process. But after overcoming them, the gain is worth the effort.
SONG Jiatong (Mainland China, Class of 2020)
Learning IC design in HKUST is a funny and interesting process. You can study the most advanced IC knowledge here and try to design lots of circuits and chips by yourself. It's a place of knowledge and opportunity and I'm glad I have spent the year here.
LIU Jinyun (Mainland China, Class of 2019)
Before coming to HKUST for the perfect match between ICDE curriculum and my goal to become an IC designer, I have long been attracted by this university as a young but leading institution in education and innovation. Indeed, on the day obtaining my degree certificate, I found myself not only equipped with in-depth knowledge and industry-level skills necessary for my career, but also having a brand-new mindset, inspired by brilliant professors and classmates. 
After my MSc study, I am now pursuing a PhD degree in HKUST. Looking back on the past journey, I have to admit that learning IC design is not easy but with the support from HKUST community, it can be enjoyable and rewarding. 
HUANG Fan (Mainland China, Class of 2016)
Studying IC design in HKUST is the best choice that I have ever made. The professors of IC design program are extraordinarily hard-working and responsive to help us to understand the course material in an easier way. The most valuable aspect of the course is that professors incorporate lots of industry experience, which helps us to become qualified candidates for the IC industry.
LI Zhuo (Mainland China, Class of 2016)
I didn't expect that I could gain so much from HKUST in the last year. IC Design is a tough and challenging career, you need to devote all of yourself to it then you may get some reward. The program at HKUST provides the top class professors and well-arranged courses which will help students to develop good design perspective and realize the beauty of IC design.
XU Nan Nathan (Mainland China, Class of 2016)
Motivated by the desire of obtaining more advanced knowledge, as well as enjoying the multi-culture outside Mainland China, I studied IC Design Engineering program in HKUST in 2015. Not only have I learned the theories systematically from the prestigious professors, but also practiced the industry-related EDA during the MSc studies. Besides, I have explored my research interest in the area of Power Management IC and System Design. I really appreciate the life and experience in HKUST, which gives me the chance to dream, think and embrace the future world.
ZHOU Xiaoyan (Mainland China, Class of 2016)
During this academic year, students got abundant knowledge theoretically and practically. The program has a powerful team including professors, TAs and other officers to help us through all the difficulties. All faculties are really willing to help us with all kinds of questions and issues, they help students to grasp knowledge and enjoy the life here as much as we can.

During this year, I always want to make full use of the resources in our university, not only academically, but also many other facilities and activities such as the gym, swimming pool, sports and dance classes, language classes, all kinds of concerts, career path courses, and the library, etc.

Through HKUST, I will have many choices after graduation like, applying for PhD degree or joining a world-class company, etc. In conclusion, one university, infinite possibility.