HKUST and Ant Group Sign MoU on Fintech Talent Development
HKUST and Ant Group Sign MoU on Fintech Talent Development
Strong Demand from Students for 10×1000 Tech for Inclusion Program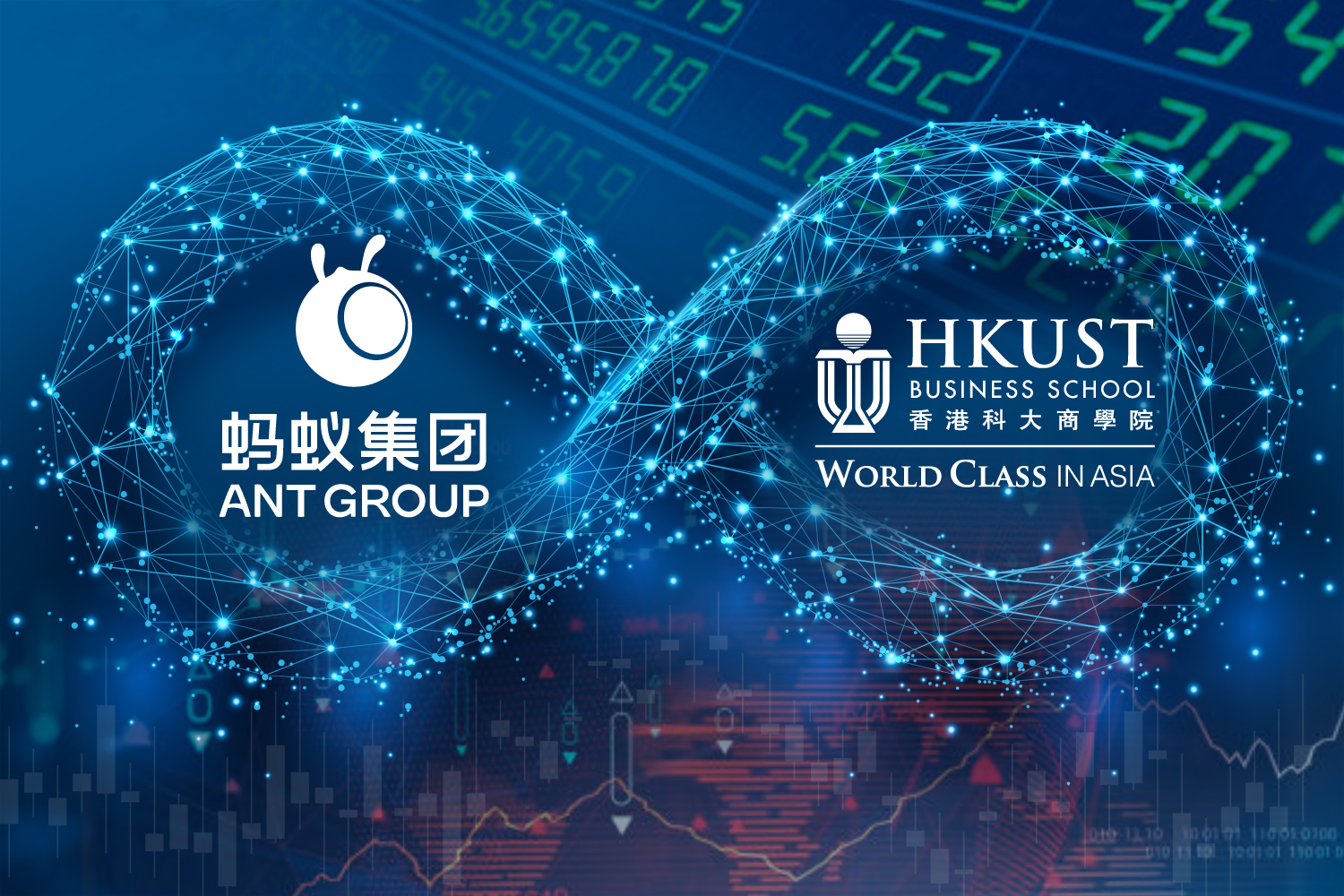 2022-08-29
Hong Kong is actively pursuing fintech to strengthen its position as an international financial center. With the goal to promote fintech talent development through academia-industry collaboration, the School of Business and Management of the Hong Kong University of Science and Technology (HKUST Business School) and Ant Group have signed a memorandum of understanding (MoU) on collaborations covering industry insight sharing, internship and employment opportunities, as well as joint efforts on industrial research. Marking the first initiative launched under this partnership, selected master's degree students of the HKUST Business School have already commenced fintech training under the global fintech training program 10x1000 Tech for Inclusion. In view of the overwhelmingly positive response from students, the program quota for the School has been increased from several dozens as originally planned to over 100.
Students selected to participate in the 10 × 1000 Tech for Inclusion program may take fintech-related online courses and seminars, and join 10 × 1000 community to engage with industry tutors and students from around the world. With the mission to train 1,000 emerging talents and tech leaders each year for the next ten years, 10 × 1000 Tech for Inclusion is a philanthropic initiative launched jointly by the International Finance Corporation, a member of the World Bank Group, and Ant Group's Alipay in 2018.
CHU Ho Kan, a finance industry practitioner and an HKUST MBA student taking part in the program, said, "Fintech should serve everyone in society. The 10 x 1000 program's introduction to fintech inclusion has helped me better understand the value of fintech and its vast opportunities, while its BASIC framework offers a primer to key fintech elements including blockchain, AI, security, IoT and computing power. The discussion on how tech can be leveraged to achieve scale and solve user pain points is most relevant and useful to my work. The case studies on implementing fintech initiatives are also very practical reference for professionals and business owners alike."
Prof. TAM Kar Yan, Dean of HKUST Business School, said, "Fintech has become a key pillar in the finance industry. Building on our strengths in finance and technology, we are delighted to partner with Ant Group, a leading player in the fintech sector, to advance fintech talent development in Hong Kong and equip students with practical knowledge and skills in fintech. We are encouraged by students' overwhelmingly positive response to 10 × 1000 Tech for Inclusion, which underscores their strong desire to upskill themselves for fintech-related work in the future."
Jennifer TAN, Ant Group's Executive Vice-President of Strategy Development and Government Affairs for the GBA region, said, "Strengthening Hong Kong's position as an international financial center and turning the city into an international innovation and technology hub is not only the nation's expectation, but also a key objective of the HKSAR Government. We are deeply encouraged by HKUST students' strong reception of 10×1000 Tech for Inclusion. Building on this strong start, we hope to explore cooperation opportunities further with HKUST, leveraging the strengths of both organizations to contribute to fintech talent development in Hong Kong and the broader Greater Bay Area."
About the 10×1000 Tech for Inclusion Programme 
Launched jointly by the International Finance Corporation (IFC), a member of the World Bank Group, and Alipay in October 2018, 10x1000 Tech for Inclusion is a philanthropic initiative that aims to prepare industry practitioners to drive future digital economic growth. Its mission is to train 1,000 learners each year for the next ten years. A total of 31 domestic, international and regional organizations and institutions, including the United Nations Economic Commission for Africa and the United Nations World Food Programme, are currently global partners of the programme. In 2021, 1,067 learners from 66 regions and countries completed the online courses. Approximately 80% of the learners were from emerging markets across South and Southeast Asia.
About HKUST Business School
The HKUST Business School is young, innovative and committed to advancing global business knowledge. The School has forged an international reputation for world class education programs and research performance, and has received many top global rankings. For more details about the School, please visit https://bm.hkust.edu.hk/.
About Ant Group
Ant Group aims to create the infrastructure and platform to support the digital transformation of the service industry. It strives to enable all consumers and small and micro businesses to have equal access to financial and other services that are inclusive, green and sustainable.
Ant Group is the owner and operator of Alipay, the leading digital payment platform in China serving hundreds of millions of users, and connecting them with merchants and partner financial institutions that offer inclusive financial services and digital daily life services such as food delivery, transport, entertainment, and healthcare. 
Ant Group has further introduced Alipay+, which provides global cross-border mobile payments and marketing solutions that enable merchants, especially small and medium-sized businesses, to better serve consumers from all over the world by collaborating with global partners. 
For media enquiries, please contact: 
Ant Group 
Choi Chi Yuk
Tel: (852) 9267 9001
Email: chiyuk.choi@antgroup.com
HKUST Business School 
Danny LEE
Tel: (852) 3469 2090
Email: dannyykee@ust.hk