HKUST Engineering Class of 2020
Congratulations, HKUST Engineering Class of 2020!
We are so proud of you as you reach another important milestone in your life. Join the Virtual Congregation and celebrate your accomplishments with your beloved family and friends beyond borders. Loads of blessings and wish you all the best!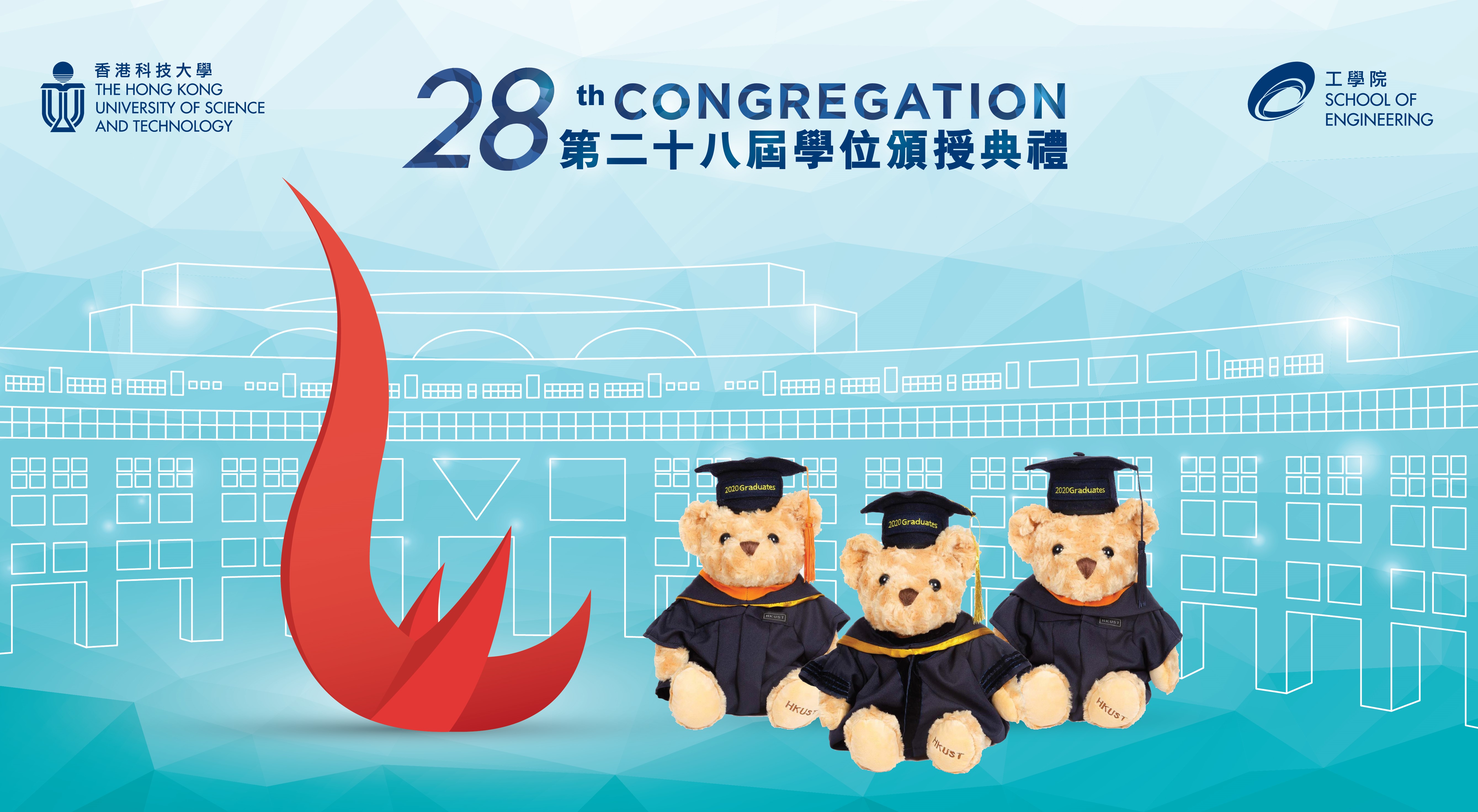 HKUST 28th Congregation - School of Engineering Sessions
The Virtual Congregation will be broadcasted through multiple platforms including the HKUST Video Channel, YouTube and Tencent Live Video Broadcasting (LVB) at the scheduled time.

Remarks:  All event times displayed below are in Hong Kong Time (GMT+8) (Time Zone Converter)
Date: 22 November 2020 (Sunday)
Session 6
10:00am
Dept of Chemical and Biological Engineering
Session 7
11:00am
Dept of Civil and Environmental Engineering
Session 8
12:30pm
Dept of Computer Science and Engineering
Session 9
2:00pm
Dept of Electronic and Computer Engineering
(including BEng in CPEG)
Session 10
3:30pm
Dept of Industrial Engineering and Decision Analytics &
Division of Integrative Systems and Design
Session 11
4:30pm
Dept of Mechanical and Aerospace Engineering
Arrangement for Photo Taking on Campus
To facilitate the graduating class to bring family and guests back on campus for graduation photo-taking, the University will make special arrangements on campus access for the Saturdays and Sundays from November 14 to December 6, 2020, and Monday to Friday from November 23 to December 4. For details, please visit Graduate Photos of Congregation website.
School of Engineering (SENG) has installed a physical backdrop at the Academic Concourse outside LT-J (near Engineering Commons) on HKUST campus during the aforesaid period, for Engineering Class of 2020 to take graduation photos with their beloved ones.
For graduates who would not be able to visit campus in person, you may download the SENG digital backdrop and create your own customised photos.
Share Your Milestone
The University has arranged the service of creating a customised photo of yours on beautiful HKUST campus. For details, please visit Preserve the Moment of Congregation website.

You can discover more HKUST-themed digital assets on Celebration Kit of Congregation website and when you share the photos on social media platforms, don't forget to hashtag #hkustgrad2020 and #hkustengineering!
Stay Connected with Us
Keep in touch with your alma mater and School of Engineering via any of the following channels. You are always welcome to contact us and we would be delighted to hear from you!
Hope to see you again on HKUST campus in the near future. Stay well and healthy!